Adding Wefts to a Hair Topper or Wig
Disclaimer: Please note that some of the links below are affiliate links and at no cost to you I will earn a commission if you purchase through those links. See my Disclosure + Privacy Policy for more info. As an Amazon Associate, I earn from qualifying purchases.
Are you looking to make your topper or wig thicker or longer? Let me show you how I did just that by adding wefts to a hair topper. For more hair topper posts see my Wig Revival page.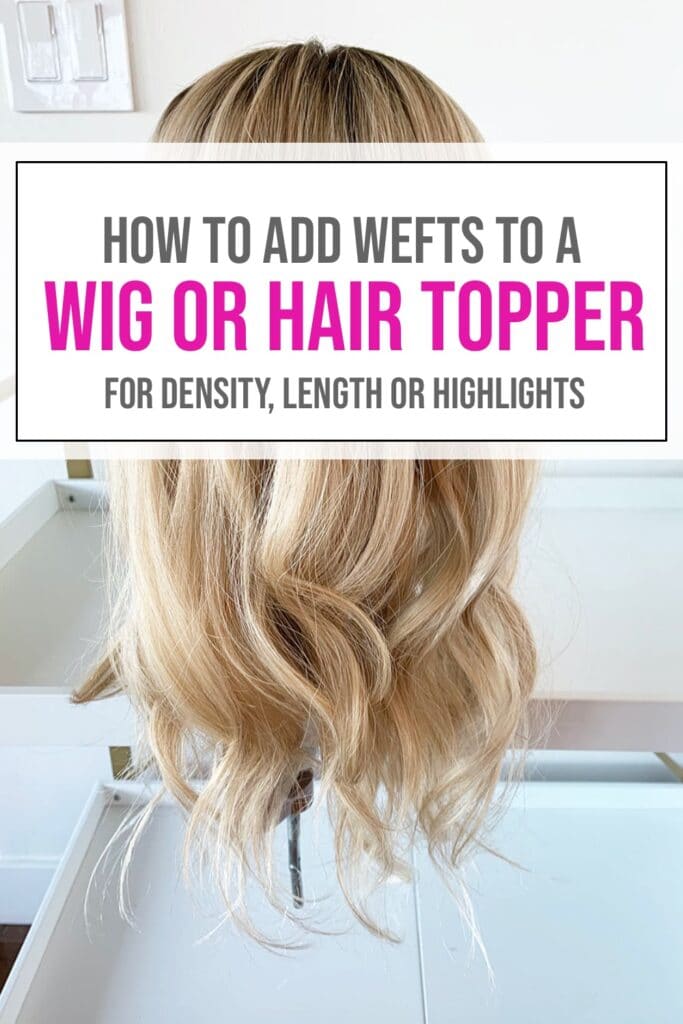 Last Christmas I bought myself a human hair Highline Hair Topper. If you haven't heard of them make sure you check them out. To me, they are some of the most realistic human hair toppers available. The hair used for these toppers are mostly Brazilian and European hair. The hair is super soft and silky and the colors Sharon creates for her Highline Wigs are so perfectly done and well, pretty amazing.
The wig and topper colors are rich dark browns with trendy subtle highlights, perfectly highlighted and rooted dimensional blondes, and golden sunkissed browns that look like you just stepped off the beach. Combine all of that with silky cascading lengths from 14- 22 inches and you have a thin-haired girl's dream hair.
When I received my new topper and tried it on it had me at hello. It felt so amazing and looked so darn real! But what I didn't check when I ordered it was the density. I think I was too excited to be getting one of these beauties I didn't notice that they are 120% density. I like low density, don't get me wrong. Lower density toppers lay flatter on the head which makes them virtually undetectable. I actually prefer them.
I bought the T5707-5713: light dimensional blonde with root 6 x 6.5 cap base and 18 inches in length. This style has wefts on the edges of the cap and is a medium density, 120-125%. When I wore it a few times I felt like I could feel a few of the wefts on the top right under the crown sticking out. I was afraid that if someone was behind me or the wind blew you could see the wefts.
Let me stop here and just say this is not a rant! First off I do not believe Highline wigs are prone to this problem. The sides of this topper was nice and dense. I think it was a factory flaw/sewing flaw on the one I received. Since I am a hair replacement tech, this was an easy fix that I thought I would share. I plan on buying many more Highline Toppers in the future. I have two already in my growing topper addiction/collection.
How I fixed the problem was to add more wefts underneath the wefts that were already sewn into the edges of the cap and add wefts right under the crown. The best part about adding the new wefts is it made the topper into a 22 inch instead of an 18 inch! Score!
I reached out to Sharon to get a color number so I could find some wefts that were similar. But her custom colors are not the same as the ones available online. So I was on my own to match the color.
This post is going to be rather long. There is a lot to go over when coloring hair, so I broke it up into sections.
Adding Wefts to a Hair Topper or Wig
The Wefts:
I searched everywhere online and found some Brazilian hair blonde wefts on Amazon. It was really tough searching to find Brazilian wefts that were one, actually Brazilian hair and two of the same quality as Highline. With Amazon, you just have to read the reviews and take a chance. I couldn't find straight-up wefts, so I purchased a clip-in type extension set and took them apart. I removed the clips and separated the wefts.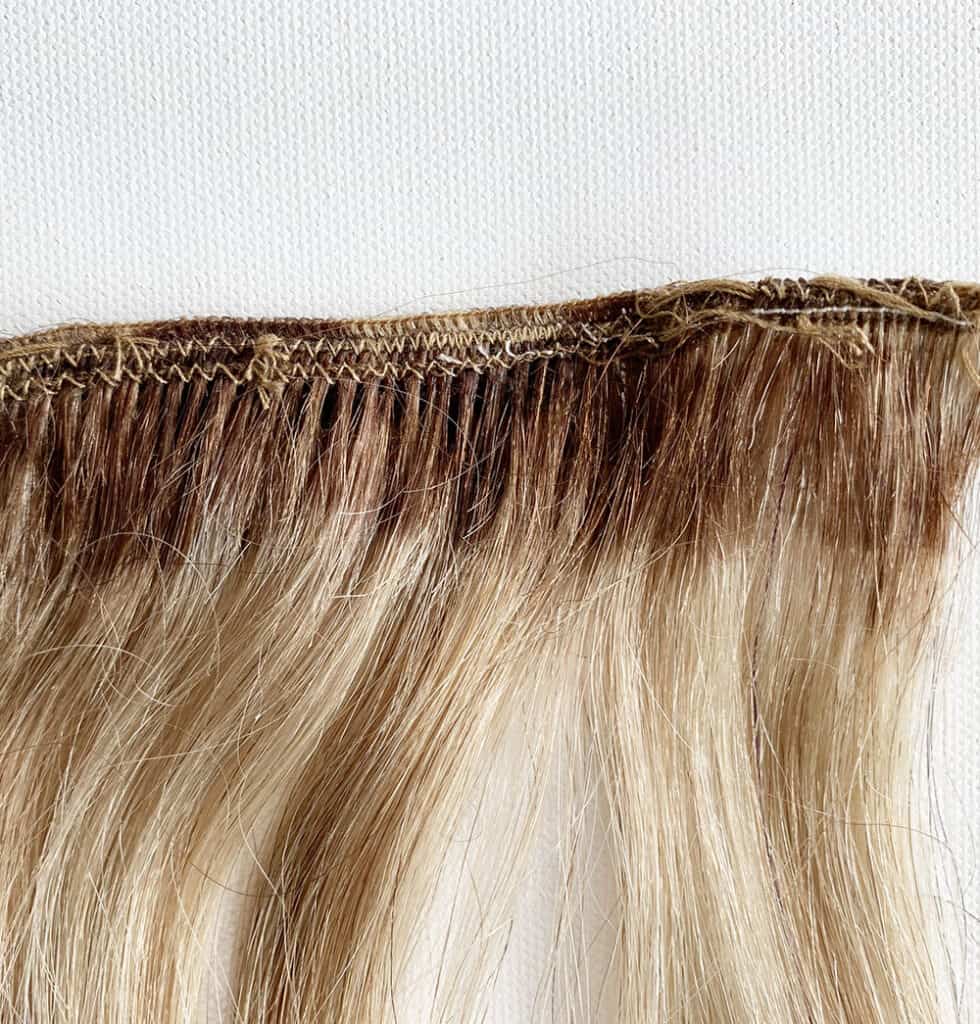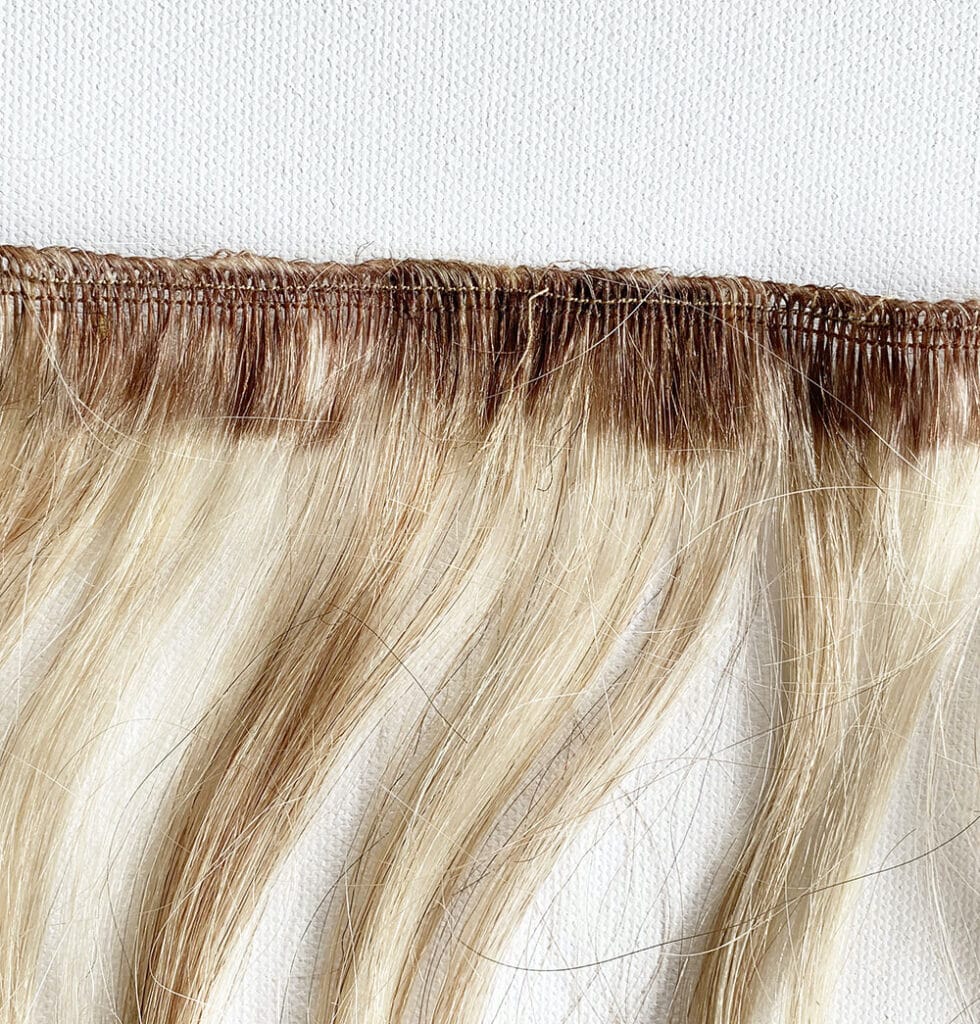 In my search, I was looking for single weft strands (right pic), most wefts are two stitched strands (left pic) of hair sewn together. If you look at them closely (see above) you will see they are folded and sewn together. I wasn't able to find them in Brazilian hair. So, I used a seam ripper and separated them myself. This way I wasn't adding bulky doubled up wefts to the piece (defeating the purpose). Wefted Highline toppers are done with single wefts.
I bought 120 grams of Brazilian Remy 18 inch straight wefts in color 18/613. I ordered them in 18 inch to add extra length to the topper. FYI: The Amazon wefts turned out to be real Brazilian. I have ordered them twice now. The second time wasn't as great as the first set. They were thinner, but it still worked. You just have to take a chance online or try a big wig supply store.
NOTE: You may be able to find Brazilian wefts at beauty supply stores. My local Sally's had gorgeous quality hair wefts for around the same price as Amazon. Hair wefts can run anywhere around $50-200+. You also may be able to find wefts that are already rooted, so you can skip the dyeing process below.
COLORING THE ROOTS OF THE WEFTS:
BEFORE YOU PROCEED A WORD OF CAUTION: Coloring human hair wefts can permanently change or damage them if not done correctly. If you do not feel comfortable attempting to try these methods, please seek a professional wig stylist to assist you in coloring your wefts. DISCLAIMER: Kim Purvis, Made in a Day and the Purvis Group LLC is in no way responsible for damaged wefts, wig, or hair topper using this advice.
To match my rooted topper, I colored the roots of the wefts with 6W Dark Sand, Wella Demi-Permanent (or semi-permanent) Hair Color. I added a drop of a blue base color additive to the solution so the end result would not be too red and cut brassiness and orange tones. Here's why…
COLORING BLONDE HAIR DOWN TO BROWN: When coloring blonde hair back down to a brown shade you must add a red/orange base to the color solution. For me, the easiest way to do this is by using a shade of color with "golden tones". If you don't add those extra red tones in your color, the result will be an ugly greenish brown. Using an "ash tone" brown color alone would cause the hair to turn green or even a shade of grey depending on the color. Golden color shades, like dark golden blonde or light golden brown work perfectly to add in enough red.
To make the hair more ash/cool and less golden/warm use a small drop of a blue color base to the color solution. WARNING: A little goes a long way with base colors. Add half the size of a pea or 4mm size. If you add too much the hair will pull too much of the color of the base, in this case, blue! Demi color brands sell base shades like blue, violet, and clear to customize their color.
Why am I using a light color like level 6 to make dark roots? Why not put a level 5 or 4? I always go one shade lighter than the color I am trying to achieve. You never know how porous bleached hair can be. It grabs the hair color rather quickly. I would rather it be too light and go darker a second time than have it grab too dark the first time. Level 7 is a dark blonde but usually ends up looking like light brown if it takes really well. Wella 6W is a mix of levels 6 and 7. So it's a perfect blend to get a light brown shade.
If you need to go darker like a level 5 medium brown or 4 dark brown, just go one level above what you want, but make sure its a "warm- golden shade". When coloring human hair wefts you never know how the hair may react because you do not know how it was processed. Once you get a good color mix write it down and save it for next time.
FORMULA TO COLOR ROOTS:
Wella Color Charm Demi-permanent color #6W Dark Sand (you can go darker if needed but stay in the "golden" shades of color, ex. medium golden brown).
Wella Color Charm Demi Color Mix is 1:2. Which means I part color with 2 parts developer. Mix 1/2 oz of 6W with 1 oz developer. Add a small 1/2 pea-sized or 4mm bead size drop of blue color additive to the color. Remember a little color additive goes a long way. Less is more. Mix to blend the color solution well. Apply to hair.
NOTE :Only use Wella Demi developer with Well Demi color. Do not use regular hair color peroxide.
If you can't find Wella Color Charm Demi colors you also try Ion Intensive Demi-permanent hair colors in the sades 6W Dark Warm Blonde or 5G Light Golden Brown. Again add the blue color base.
How to Darken the Roots of Wefts:
Lay an old towel or trash bag down on a large surface to work on. Lay the wefts out into rows. I rolled up the ends so I wouldn't get any color on them.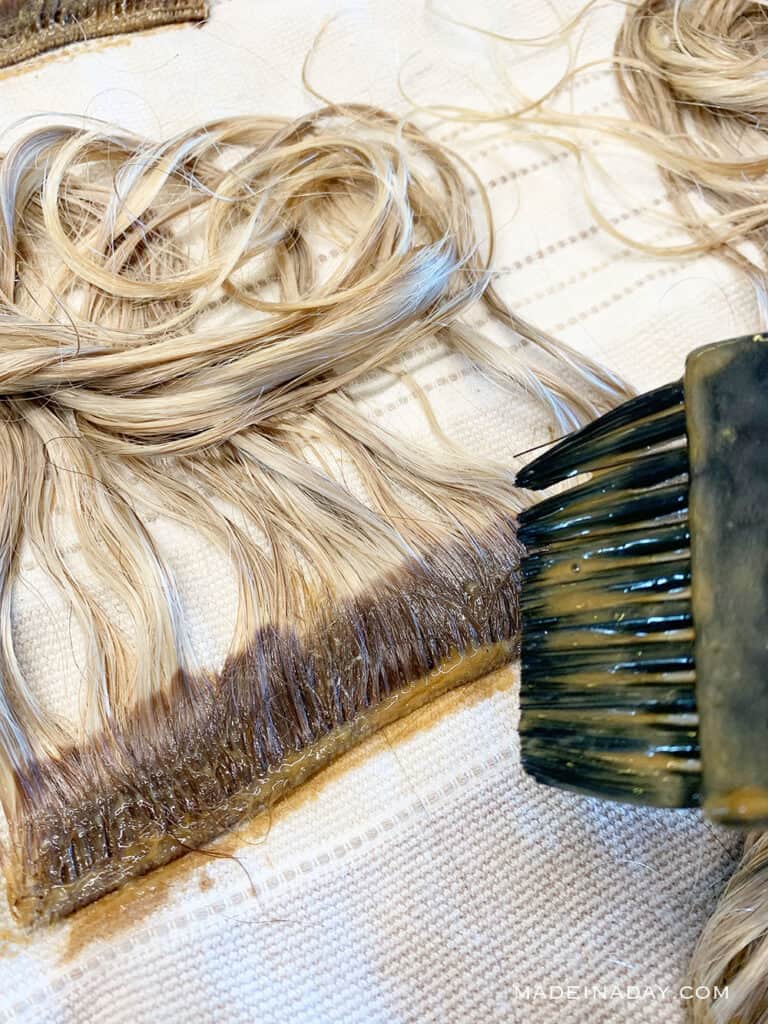 Using a color brush, paint one inch of the root area of the wefts on both sides.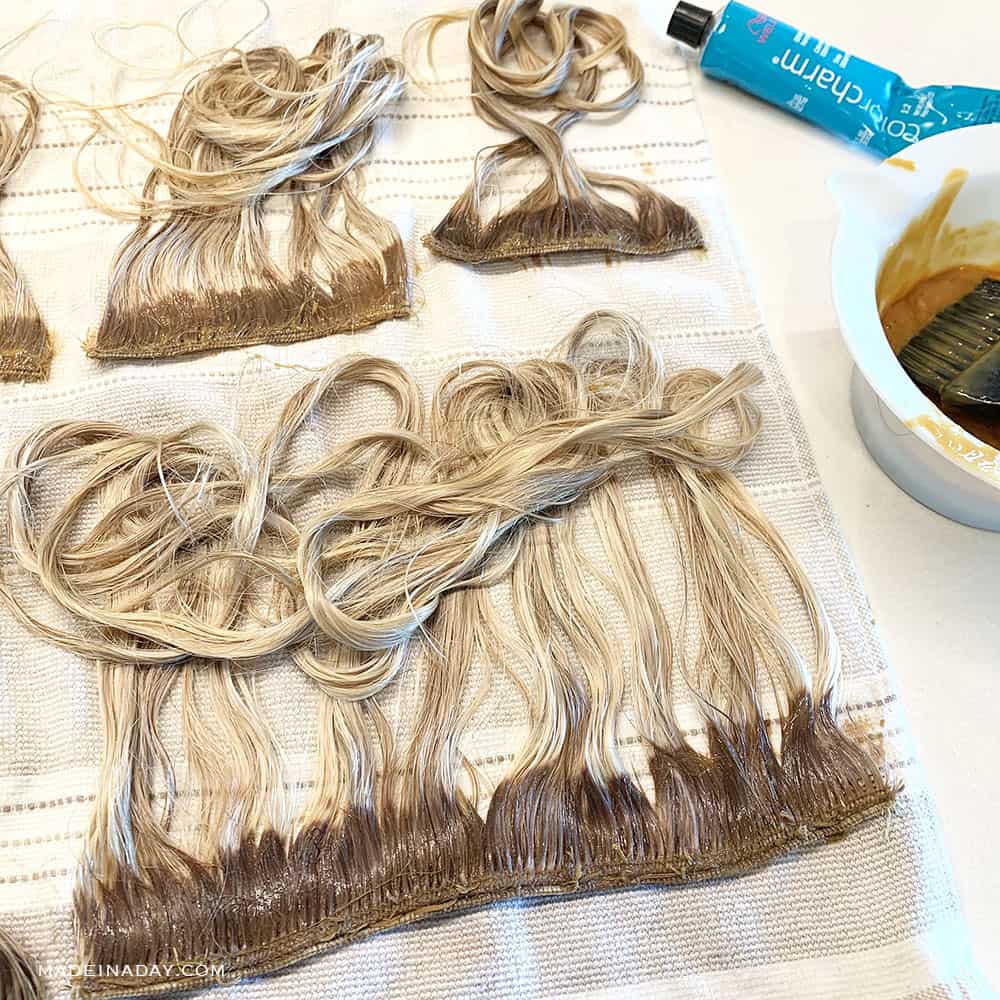 Paint the color on quickly, or do small batches, because the wefts will process fast and be ready to wash them out in around 5-7 minutes.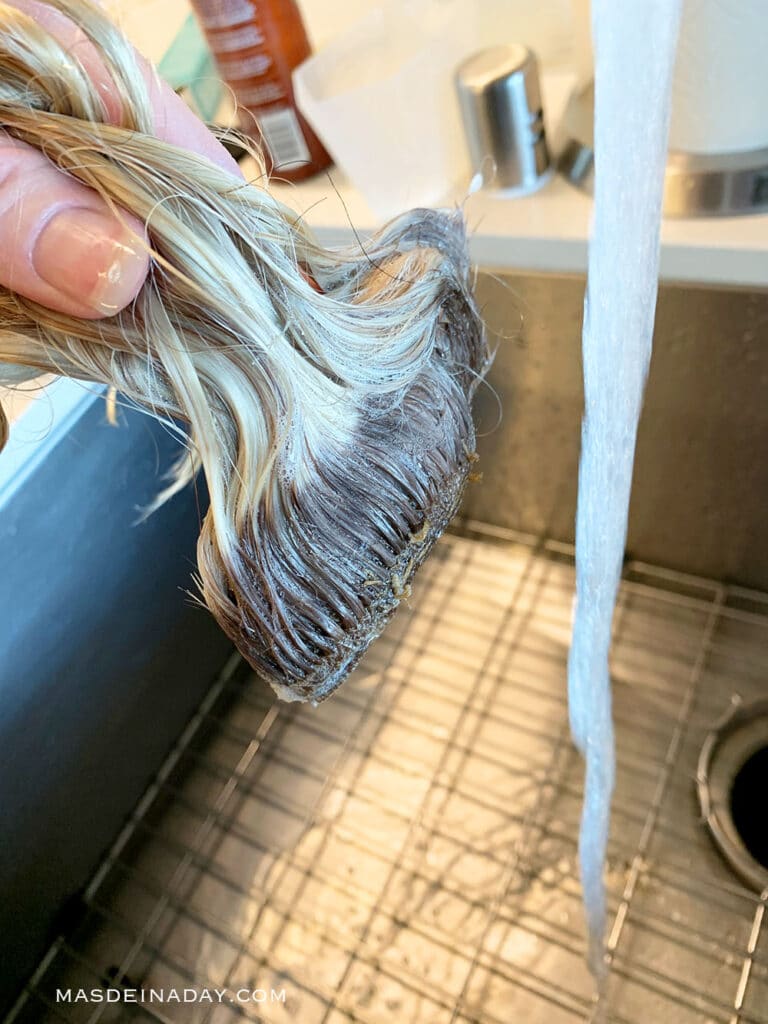 Fold the wefts in half and rinse the wefts from the base up. WARNING: Do not let the water run down the shaft of the hair it will darken the ends. Shampoo and rinse the base/root area only leaving the ends of the wefts alone. Let them dry.
Next, you are going to sew the wefts onto the piece. I found sewing the new wefts directly under the old wefts made them less noticeable.
How to Sew wefts into a Hair Topper or Wig:
Adding Wefts to a Wig: You will do the same things I mentioned above. You need to find single or double synthetic (or Human hair if the wig is human) wefts in the color you going for. The process for adding wefts to a wig is the same for a topper, just follow the same instructions for stitching them in below.
Adding Wefts to a hair Topper: Secure the topper or wig onto a canvas head with wig pins. Determine the area to add the wefts and clip the hair back with clips to hold it secure.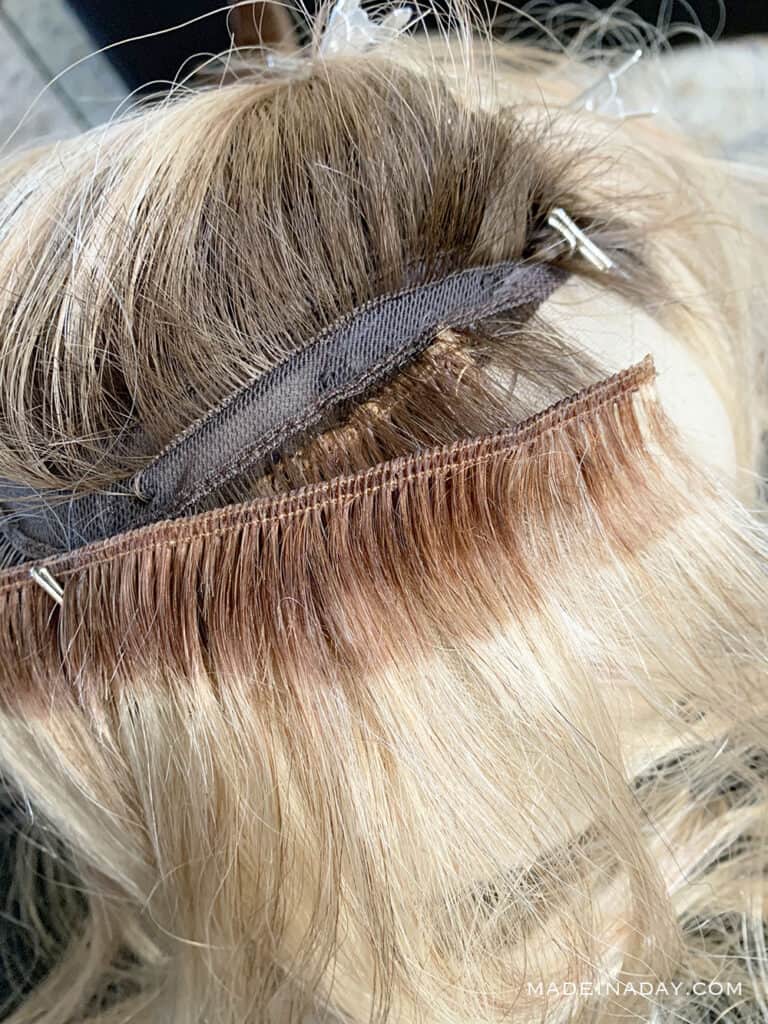 Lay the wefts under the original wefts and pin them into place with wig pins.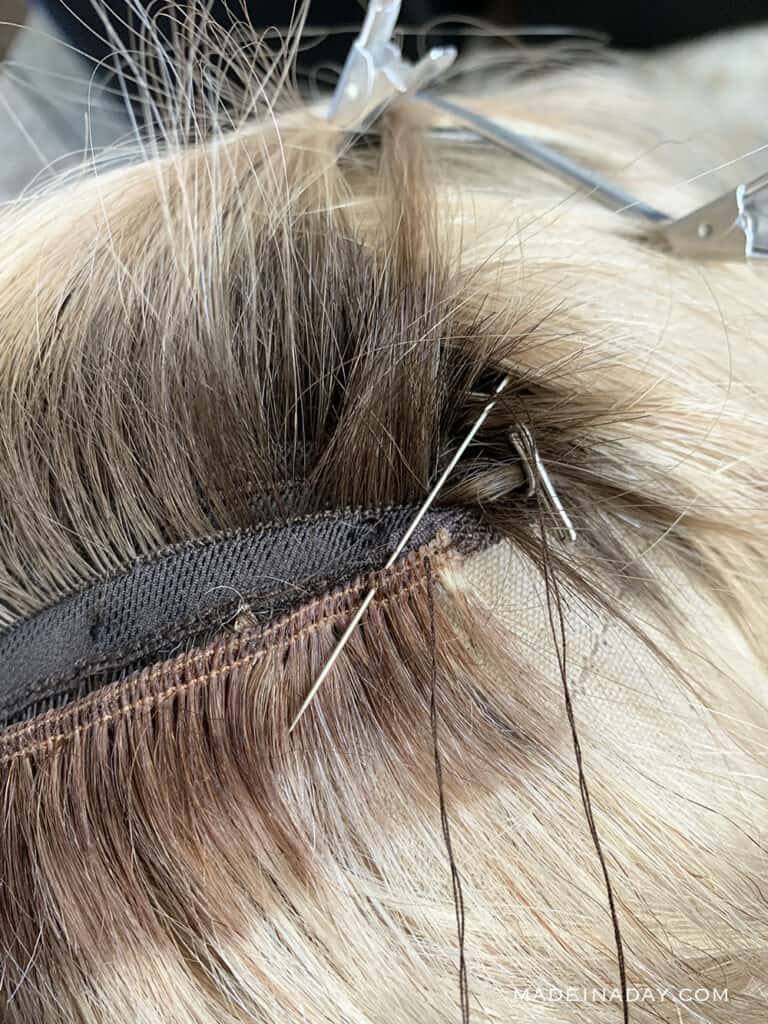 Sew them in with a straight needle or curved needle ( I prefer straight they are thinner) and strong polyester thread. I like to use a backstitch technique to make sure it is secure. Be careful when stitching into the stretchy cap fabric it is delicate and can tear. When securing the weft go through the topstitched sewn area of the weft when stitching.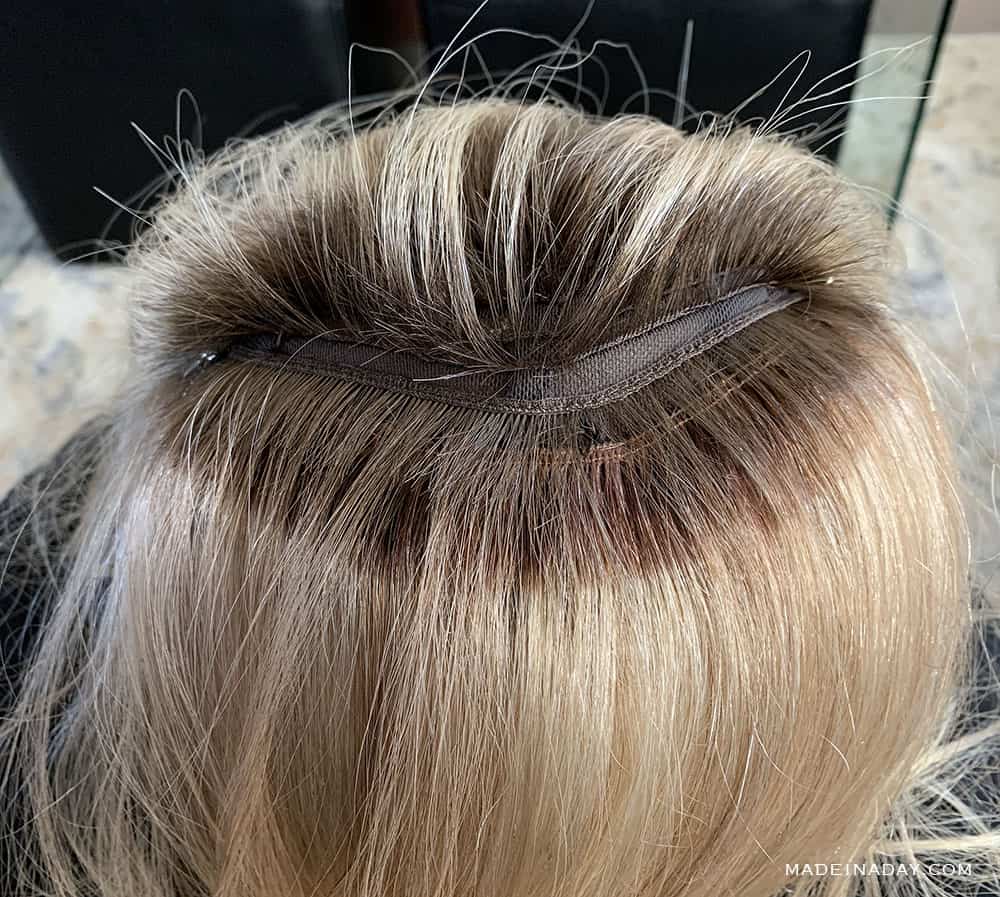 Move around the base area from side to side. I added 5-6 wefts going down in the back and on the sides. You may need more if your base is larger than 6 x 6.5. I had a lot of wefts left over to use so 120 grams of hair may be enough for a slightly larger base.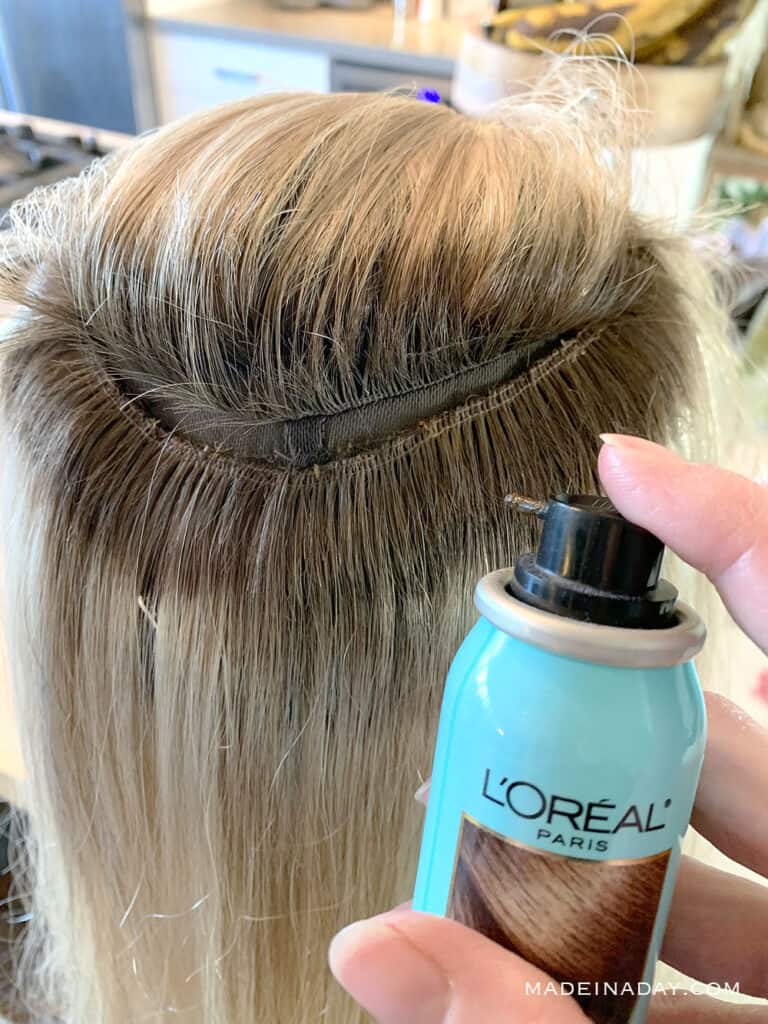 I wasn't happy with the color of the roots on this batch. I forgot to add in my blue base so they ended up goldish red. I used my Loreal Root Spray in Light Golden Brown to cover the roots of the wefts. This blended them in perfectly. The cool thing is the root spray doesn't wash out that easily. So I haven't had to touch up the roots and I have washed it several times. The root spray also hides the sewing machine stitching on the wefts.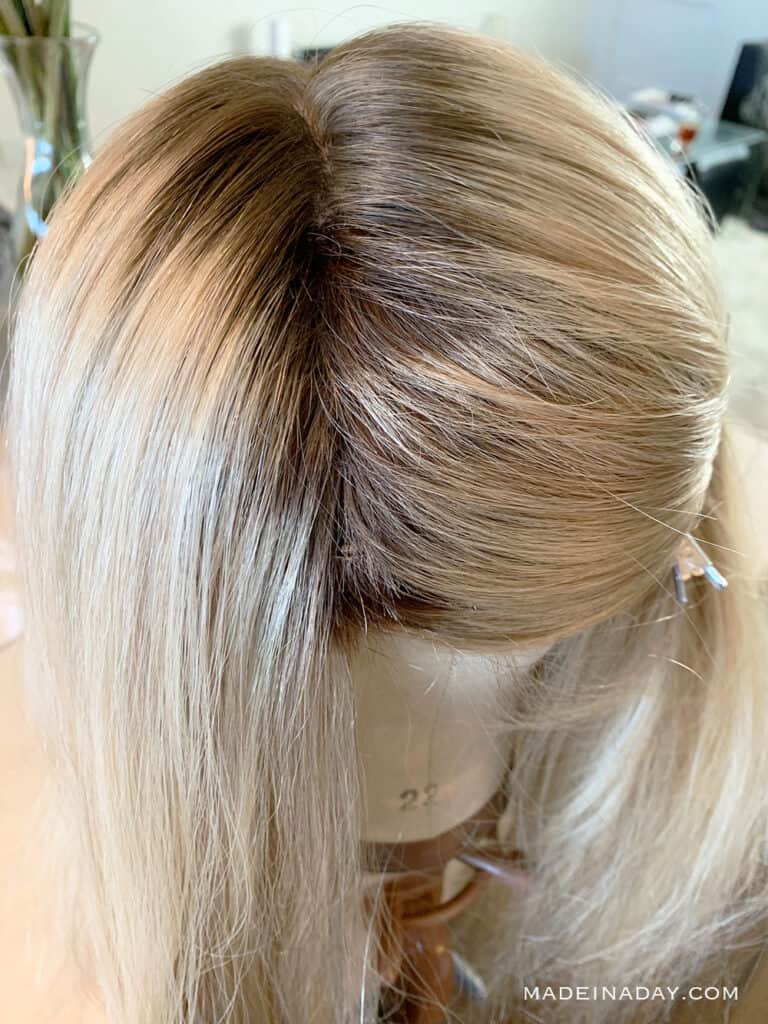 Here is the topper all finished with the new wefts added. It blends perfectly! Sewing in the wefts worked like a charm!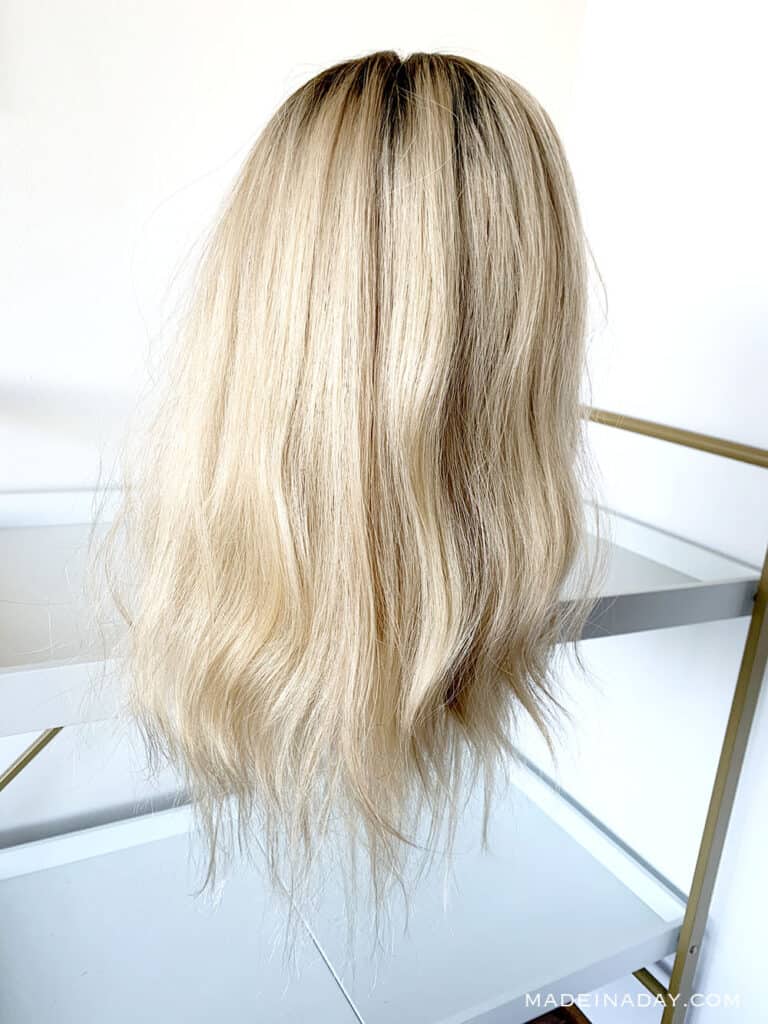 Brush the hair out and trim the wefts if needed. I left mine untrimmed for thin natural looking ends.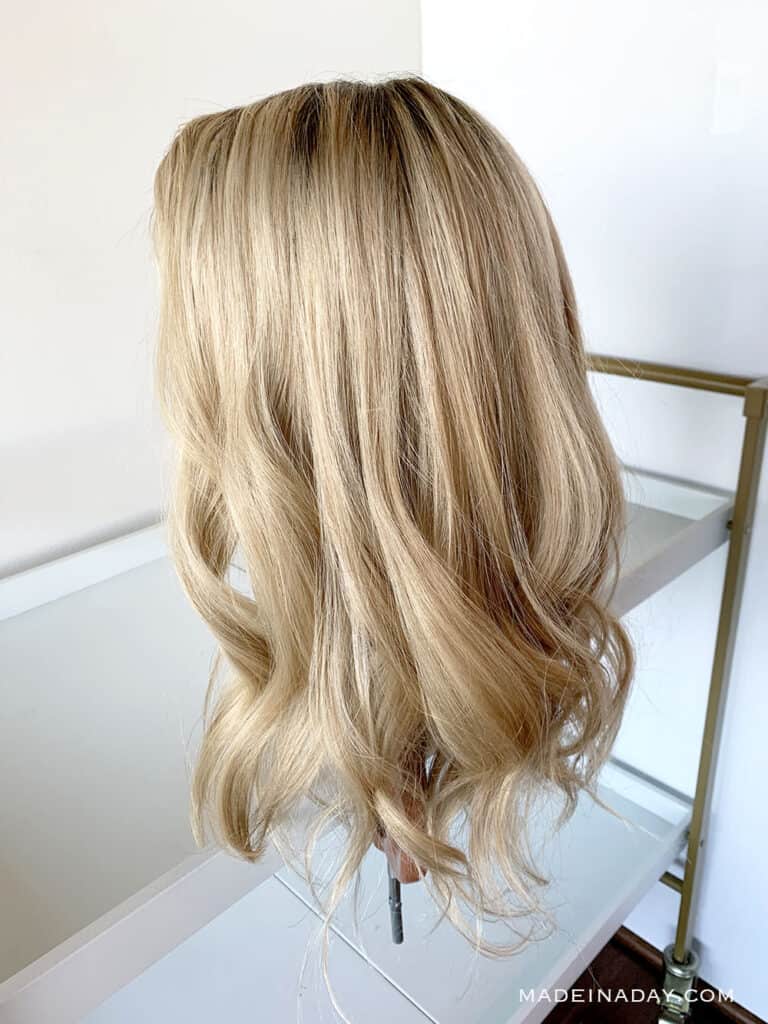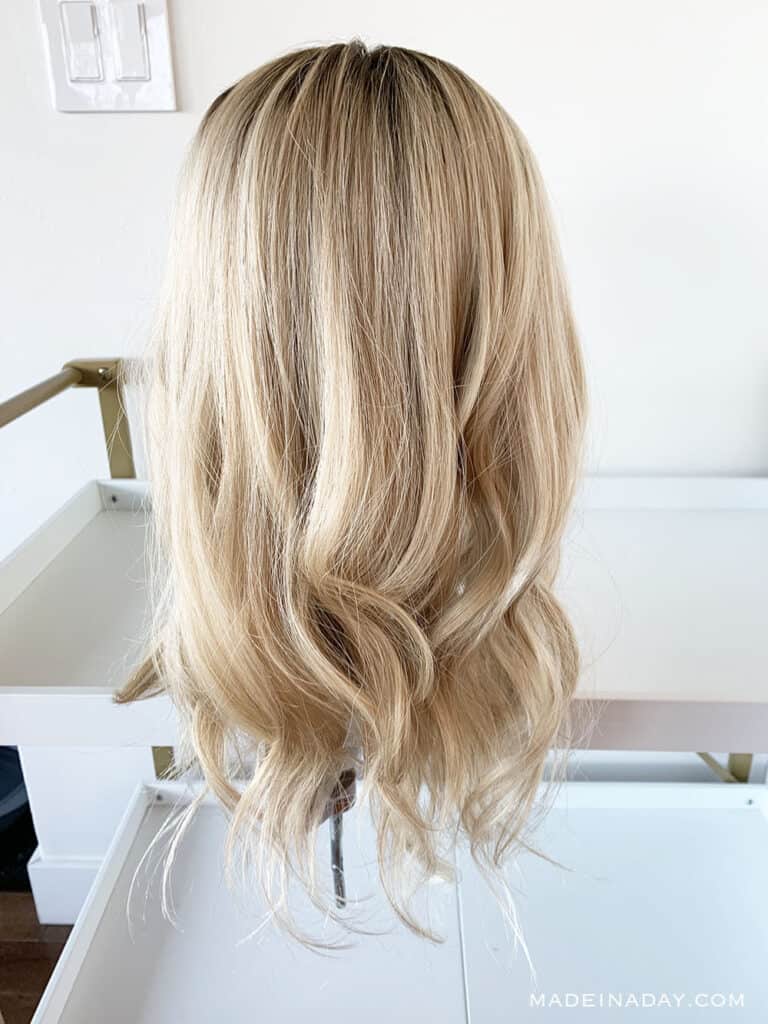 I am so thrilled with how this turned out. I no longer feel the wefts under the crown and the extra length is the bomb! I have my mermaid hair! One thing that was surprising though, was the weight of the topper after adding the hair. It definitely feels heavier on my head.
Adding wefts to a hair topper or wig would be a great solution for a thin topper, slightly shorter topper, or maybe adding highlights to a wig! Get creative and have fun with it!
Do you have a wig you didn't wear or just didn't like the color? Join my FB group and sell or trade it with a wig sister! See ya there!
Love it? Pin it!