Care & Styling Heat Defiant Hair
Disclaimer: Please note that some of the links below are affiliate links and at no cost to you I will earn a commission if you purchase through those links. See my Disclosure + Privacy Policy for more info. As an Amazon Associate, I earn from qualifying purchases.
Did you buy a hair topper or wig with heat-friendly synthetic fiber and do not know how to take care of it? This guide to Care & Styling Heat Defiant hair will answer all of your questions. For more posts like these see my Wig Revival page.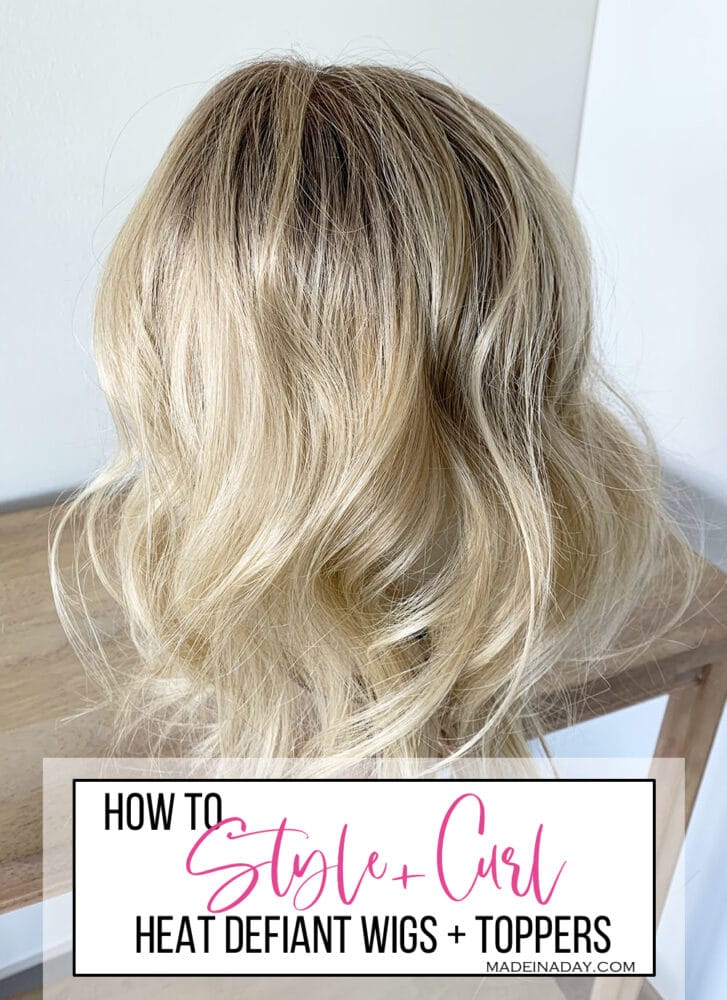 Wigs and hair toppers come in three different fiber types. They are made using synthetic fiber, heat-friendly synthetic fiber, and human hair.
Different manufacturers make different types of deniers or thickness of the fiber. Some have a fine hair denier, some have a more thick denier.
What prompted this post is that I decided to sell some of my first hair toppers in some of the online FaceBook Wig Sale groups.
I loved it so much I started my own, Wig Revival Buy Sell Trade group, click to join I'd love to have you. Each person that messaged me about the items I had 'for sale" bombarded me with a ton of questions about toppers.
Most of these ladies had never worn a topper at all and some didn't even know what a hair topper was. But they really wanted to buy one, lol.
Mostly they were very unfamiliar with heat defiant synthetic pieces and the things you must know before buying. I am going to share with you what I shared with them.
I have been wearing hair toppers for almost two years now. Like most wig wearers. Before I ordered my first hairpiece I cut my hair shorter and shorter. I ended up in a short angled bob. I was cutting it shorter trying to make my hair appear thicker.
When that became exhausting to style, I broke down and ordered a topper. See this link to learn more about helper hair and hair toppers.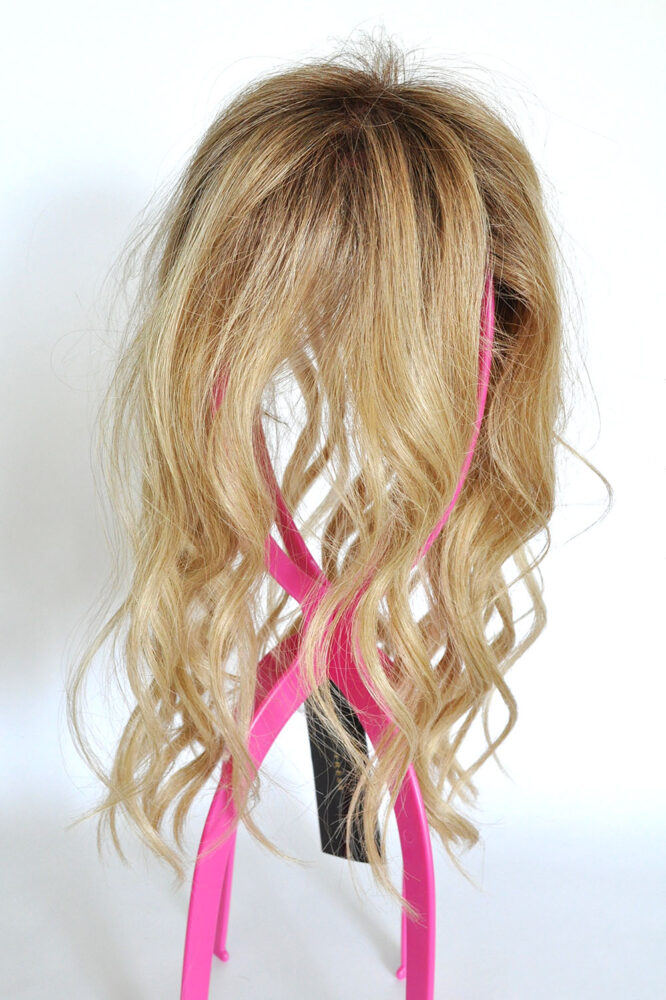 The first topper I tried was a Belle Tress Top Wave (seen above) it has a 6.5 x 6 base, lace front and mono top. I ordered the Honey Chai Latte color because it was rooted and would easily mix with my rooted blonde highlighted hair.
This is the topper seen in the pics on this post. It has heat defiant synthetic fiber. So it is perfect to show you how to maintain, style, etc.
Let's talk about HD Fiber…
While shopping for wigs you may see the hair type called heat defiant, heat-friendly or heat resistant synthetic fiber. First off let's define what exactly heat-friendly fiber is. Heat defiant fiber is not your ordinary synthetic wig fiber.
Its fibers are much finer in denier and it is able to withstand heat appliances up to 350°F/180°C. That means it can be styled or maintained using heat to keep the fiber looking new.
Heat friendly hair has a nice fine texture which makes it the closest match to the human hair fiber. Which is perfect if you are on a budget! Sign me up, right!
This fiber is a more affordable alternative to human hair. I love it because there is little to no wig shine and you can change the style with heat appliances.
The only downfall is the regular maintenance you MUST do on them. If you are not very good at stying hair there can be a learning curve involved. This post will help with that! Yay!
So I know your thinking "just what does that mean, MUST add heat to maintain it"? Here is what is going to happen to your silky heat defiant fibers.
You are going to get possibly 5 to maybe 10 wears out of your topper then you will start to see the ends feel stuck together or clumpy and if you look closely they are frizzy. This happens from friction from your clothes and body heat.
The longer the length of the piece the more frizzies that will happen. To fix this problem, I see in FB groups where most people give up and throw the piece out or they will be tempted to cut those frizzed ends off. DO NOT DO THAT!
You can fix the fiber to look like new. I want to show you how to do it and how to take care of those expensive wigs and hair toppers. They can last for years if you treat them properly. Here's how I do it!
CARE FOR HEAT FRIENDLY SYNTHETIC HAIR
I have quite a few toppers and I do maintenance on them all once, usually every two weeks or when needed. To shampoo them I soak them for 15-20 minutes in a sink full of cold water with a quarter-sized squirt of Jon Reanu's Fiber Love synthetic shampoo.
Thoroughly rinse them in cold water. If they are new I spray the ends with a little (not a lot) Jon Renau HD Smooth Detangler or Fiber Love Spray and very gently comb through them with a wide wig comb.
If they are older and really dry I deep condition them with Silicon Mix Bambu Creme Conditioner. I also use a silicone spray in between washings and for touchups before each wear.
BUT…If it is winter and static cling is rampant I may soak my toppers in 1/4 cup of unscented Downy fabric softener diluted with 1 gallon of water for 20 min. I do rinse the softener out thoroughly after soaking it. I do not leave it on the fiber like I know some of you do.
The fabric softener makes the hair fiber feel amazing and almost like brand new. The only drawback is the HD fiber tends to get build-up or clumpy fibers faster using fabric softener.
I am having to wash and maintain the heat-friendly fiber every other week anyway so using fabric softener isn't really a big deal.
Now before I get a ton of comments on how Downy fabric softener is terrible for wigs, I have washed my HD fiber and regular fiber toppers for two years now and they are absolutely fine.
My regular synthetics are also still shiny so I do not see the fibers breaking down as of yet. Some of you have had bad experiences with using fabric softeners, like it stretching out the soft wig base fabric. I have not had that experience but I do not wear wigs I wear toppers. My advice is to use it at your own risk.
One thing that I think makes the difference if I am using the fabric softener, again I do not use it every time I wash my topper only during the winter months. I make sure to rinse it out really well.
I do not use any other spray-on conditioners when heat styling the fiber. I only use water. To me the more conditioners, thermal sprays, or silicone conditioners you put on the fiber with the fabric softener the more build-up you get and the faster it clumps.
I do not usually spray the fiber when I take the piece off. But I do use an HD Conditioning or synthetic silicone spray before I put it on.
I know I am backwards when it comes to doing what I'm told. I only spray it on the very ends though. Not the whole topper. Again too much product = clump.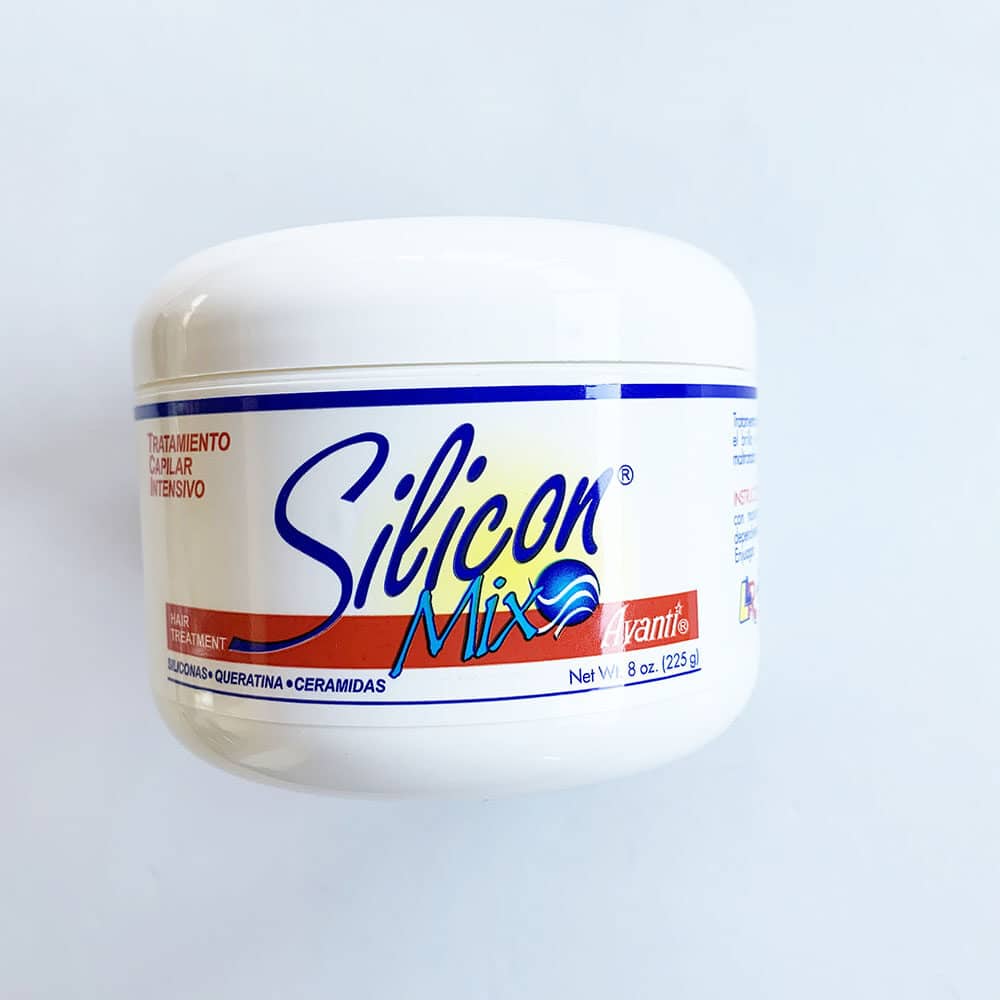 I am also in love with Bamboo Silicon Mix Conditioner. This conditioner works wonders on heat defiant fiber. I shampoo and apply the conditioner and place it in a plastic bag for 20 minutes to an hour.
FYI, when applying to the wig or topper stay away from the knots at the base. This heavy cream can loosen them.
Make sure you rinse it all out thoroughly or it can feel heavy and weigh down/coat the fiber. I have used this conditioner on my oldest HD toppers and even on my human hair toppers, afterward, the hair feels like brand new.
No kidding it works wonders, good stuff! Oh and don't buy the regular Silicon Minx conditioner it has a strong perfume smell.
Styling Heat Defiant Hair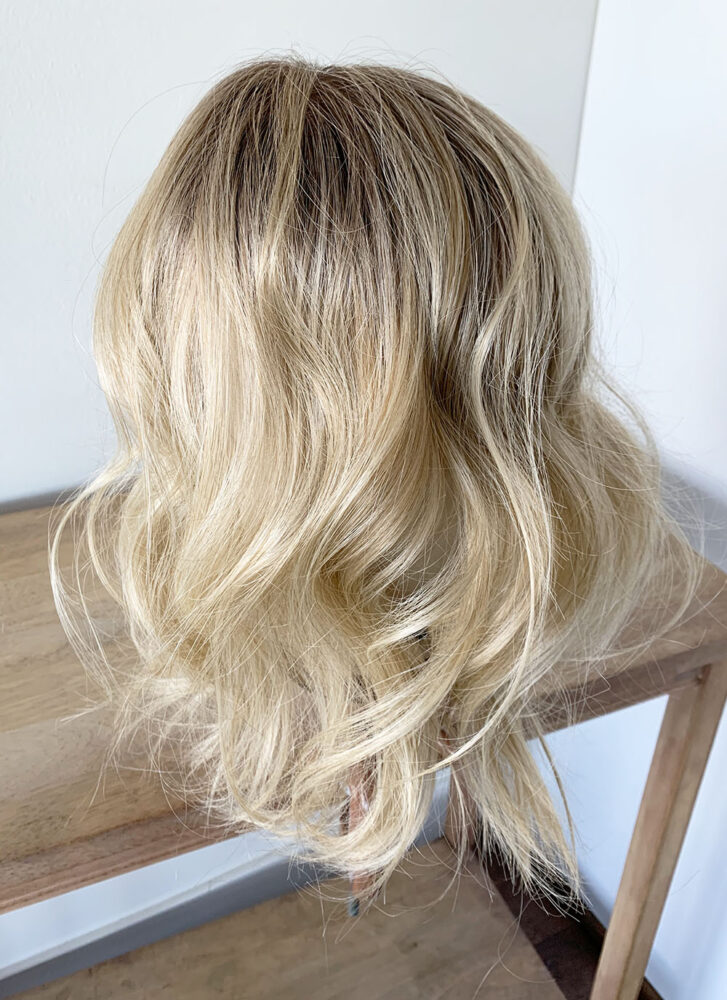 Supplies: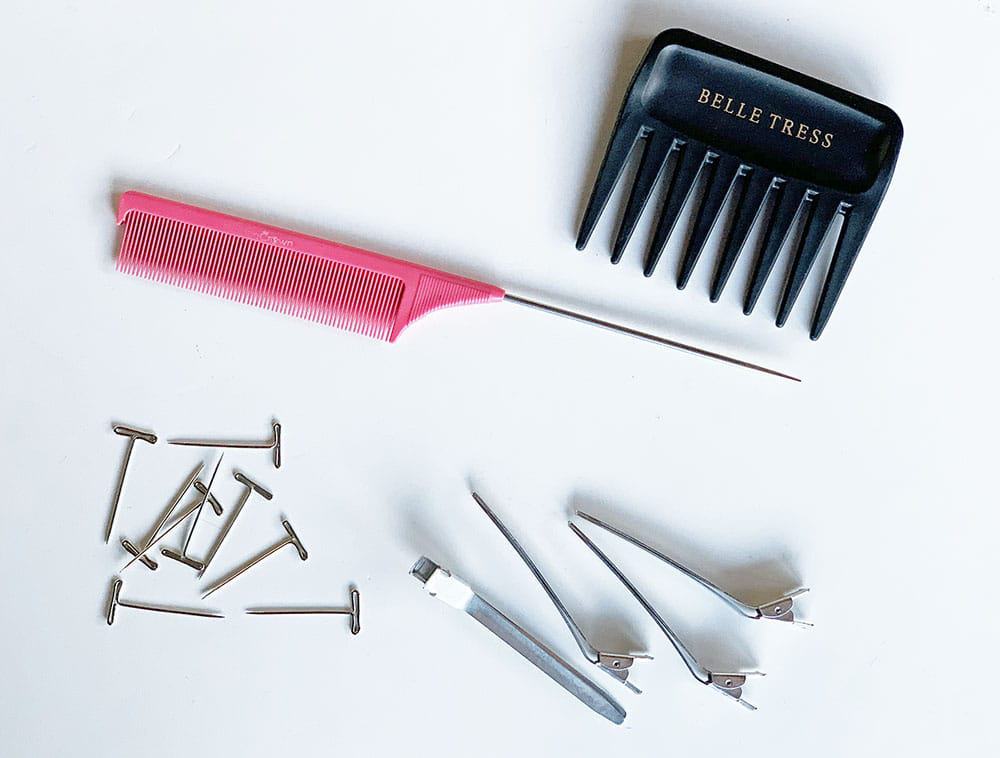 Starting with a topper that has been washed and rinsed, mount it to a canvas block head and pin it down in the poly edge or clip sections.
You do not want to tear the delicate lace or mono top. Gently comb the hair fiber out with a wide-tooth wig type comb. I comb it out how I wear it in a side part.
I use a flat iron, curling wand, and curling iron to curl my pieces. Try to buy all of them with a digital temperature gauge so you always know what degree of heat is being applied.
BEFORE YOU PROCEED A WORD OF CAUTION: Heat Defiant fiber can be permanently damaged with heat appliances while styling if not done correctly. If you do not feel comfortable attempting to try these methods, please seek a professional wig stylist to assist you in styling your wigs. DISCLAIMER: Kim Purvis, Made in a Day and the Purvis Group LLC are in no way responsible for a damaged wig or hair topper using this advice.
Step 1: Smoothing the Frizzies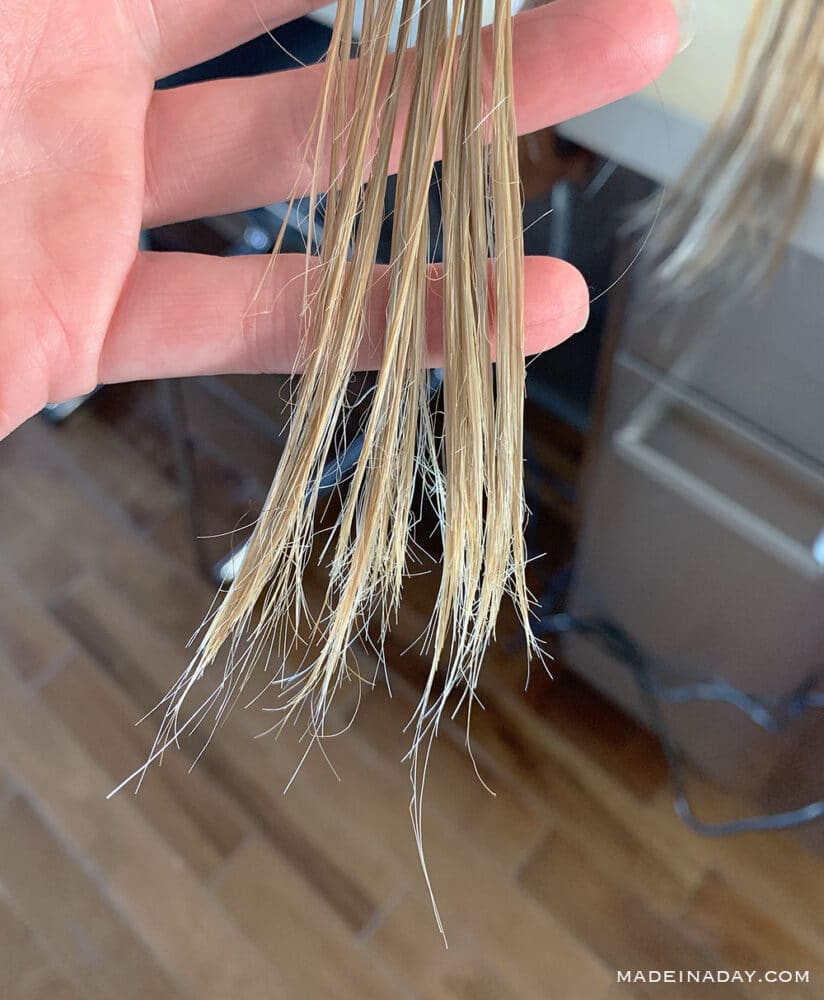 Preheat flat iron to 260°F or lower, (NOTE: some fiber can be heated up to 300+, see fiber manufacturers recommended heat) I go with lower heat to be safe and not to be too harsh on the fiber.
TIP: Do not put heat appliances like a flat iron on the roots of the hair near the part, crown or top. This will keep those areas full and fluffy like natural hairlines and part areas would look. Of course, if you do not like a puffy top you can smooth them down.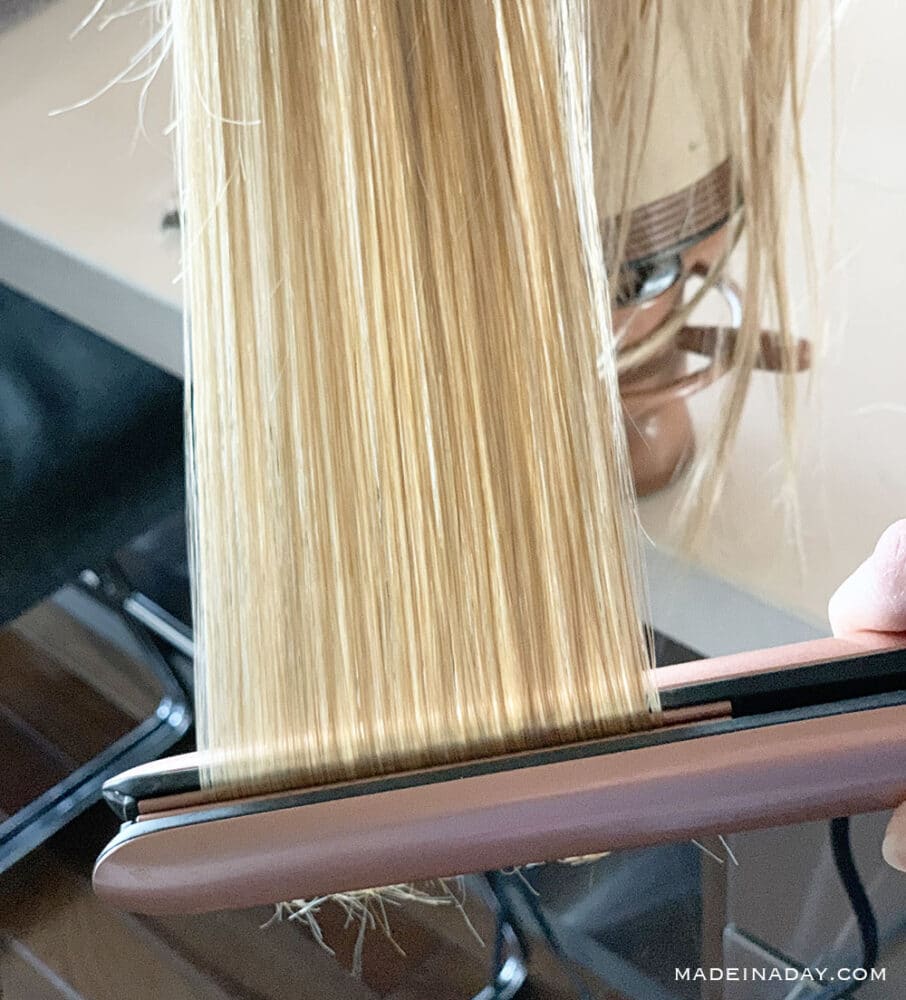 Section off two rows, a top and a bottom section on the hair topper. Take small 2-inch sections starting at the front hairline and work your way around the head.
Comb out each section about midway down to ends with a rattail comb. While the hair is damp, spray water or HD thermal spray on the fiber and quickly run the flat iron down the strands 2-3 times until they are smooth.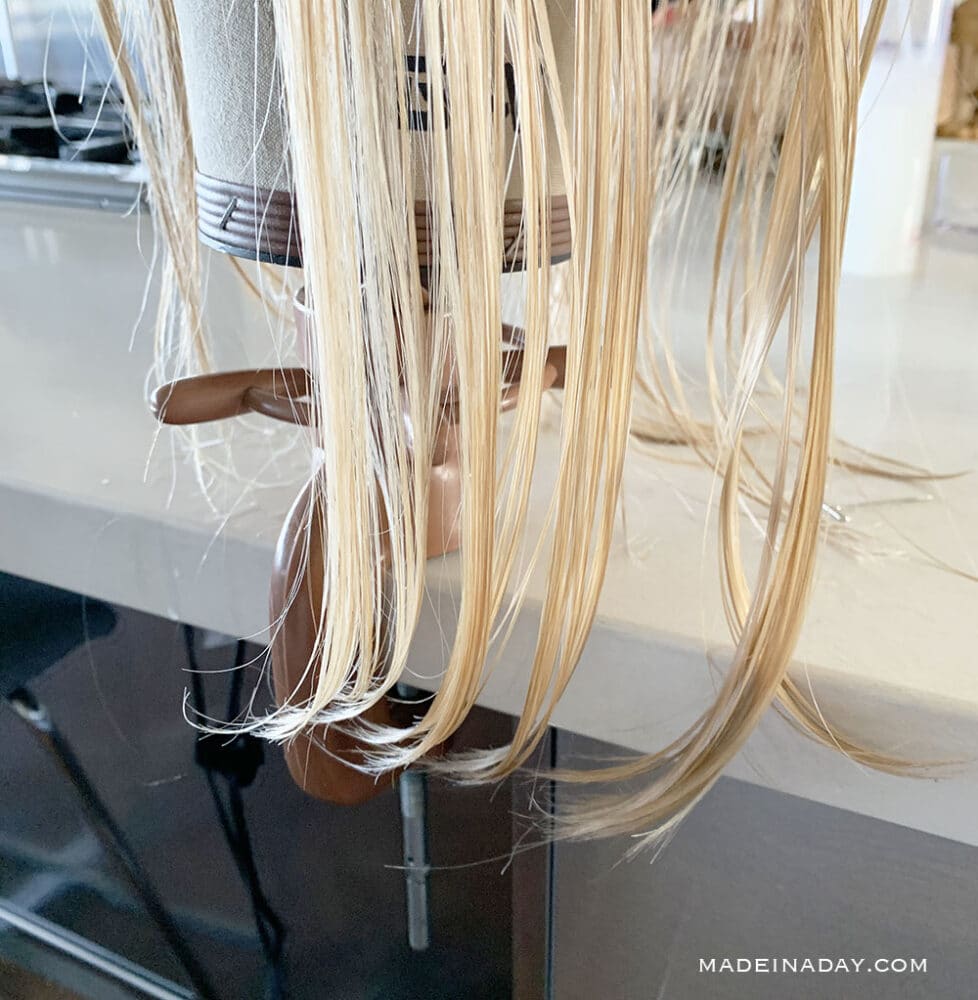 When I smooth my HD fiber toppers to wear them straight I smooth the hair starting from the top and then make a quick downward turn with your wrist to create slightly rolled under ends to the topper.
Repeat with each section until finished. If you want the hair to straight then end the process here.
Step 2: Making Beach Waves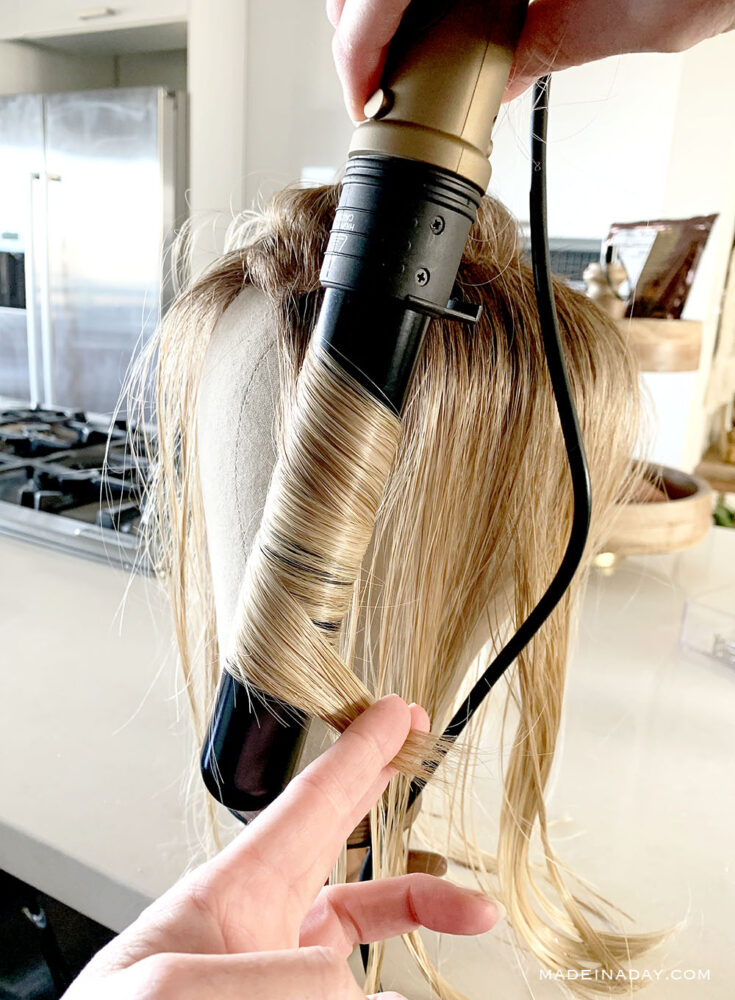 Heat a curling wand or curling iron to around 200°F. Sometimes I go a little hotter if the curl is having trouble forming. Again check your wig manufacturer for the correct heat allowance for your fiber.
Take your first 2-inch smoothed hair section and using a 1-inch curling wand, wrap the section of the HD fiber around it.
I leave about 2 inches of the ends out so they hang straight with no curl. (If you want the ends curled wrap them all the way down). Wait 10-20 seconds to release the curl.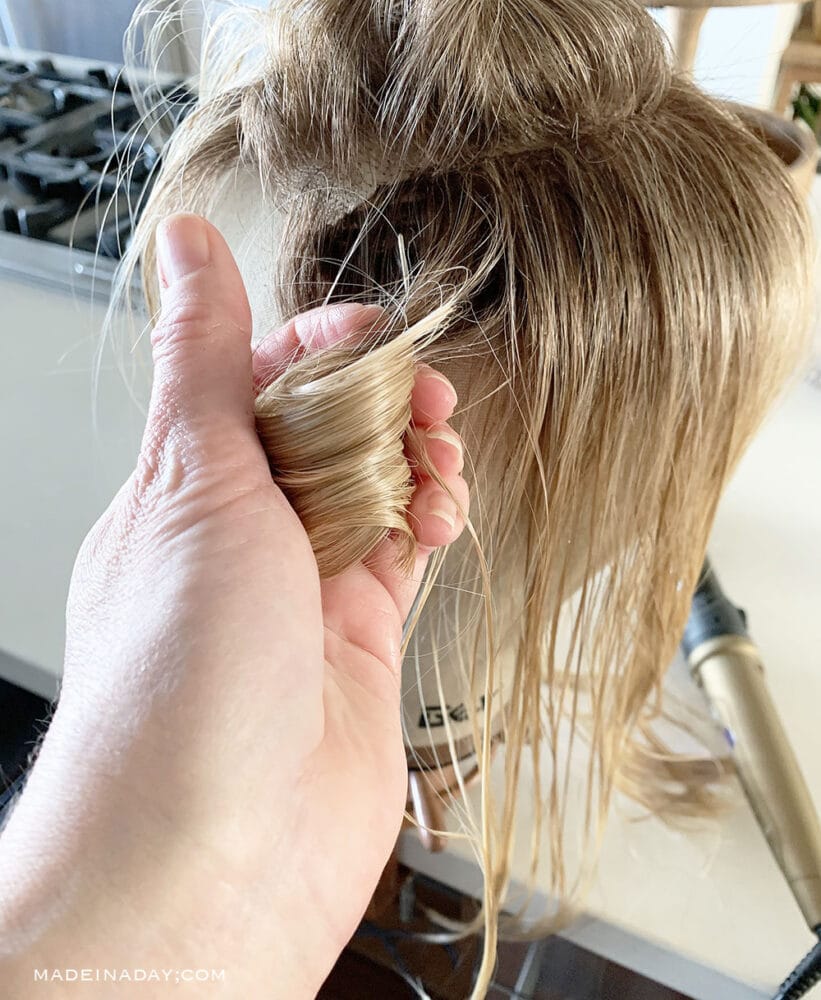 Gently turn the wand in the opposite direction to release the hair. Hold the bottom of the curls with your left hand while releasing the wand in your right hand.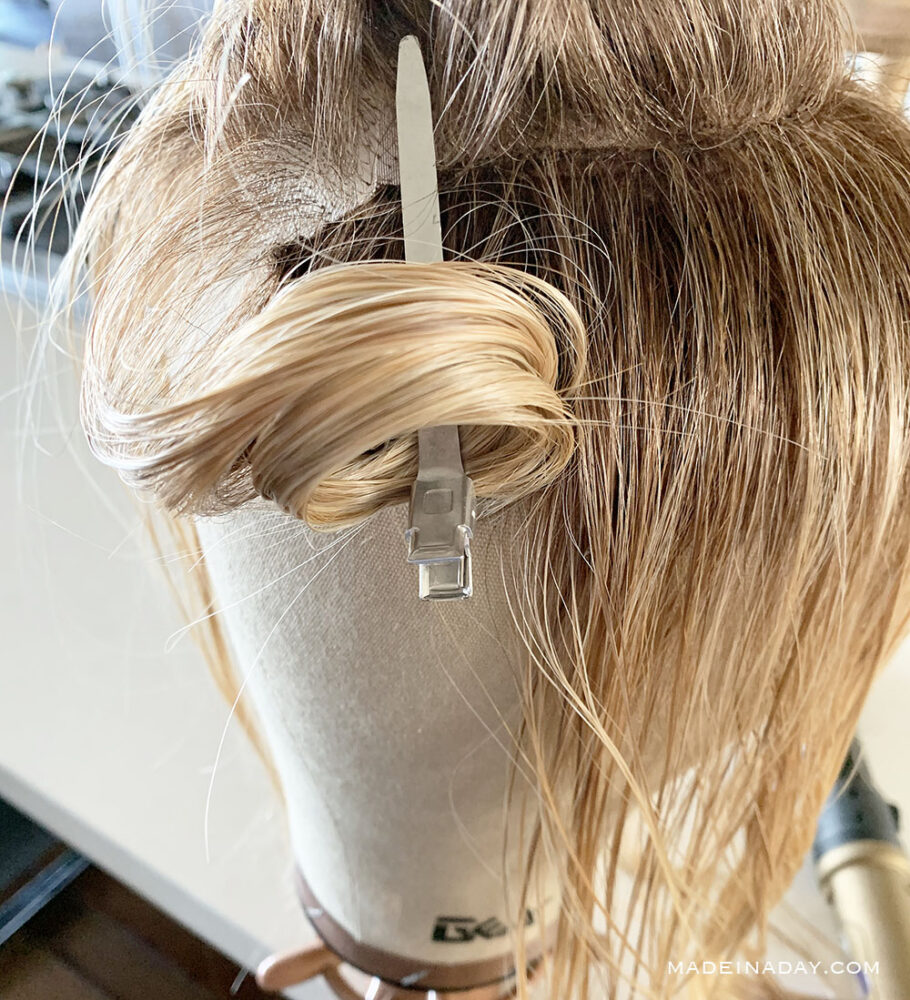 Put the wand down and quickly grab and place a long duckbill clip through the bottom of the curl to the base of the topper hold the shape. This is what makes the curls stay strong and bouncy in HD hair.
If you do not let the fiber cool off while pinning or holding the curl tight in place it will not hold a curl. Repeat going around the head.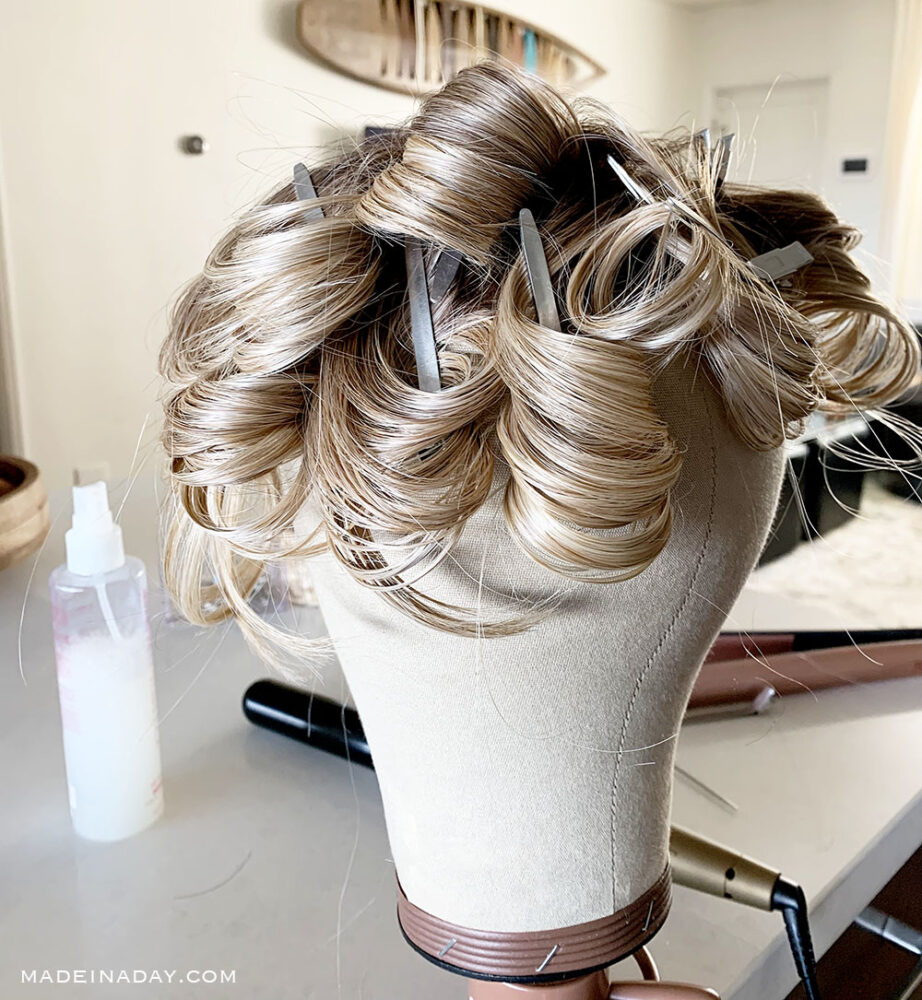 Step 3: Finishing and Storing
When you are all done curling the fiber, let the hair cool and dry with the clips still in. Remove the clips and store hanging upside down with the curls in a hair net to hold the curls toward the base while storing.
When you're ready to wear it, just shake out and gently finger comb or use a wig comb to separate the curls.
CONCLUSION:
One thing I do realize is that everyone has their own way of maintaining their wigs and hair toppers. My advice is to try some of these methods on an old wig or topper before ruining a new one. Practice makes perfect. I will be doing a post for regular synthetic fiber next so stay tuned.
There are a lot of YouTube videos out there that show some variations of these methods. Do what is most comfortable for you. If you are not comfortable attempting this type of stying your wig yourself, please, please, please take it to a wig shop and have them do it for you.
I wrote this post for all the newbies who think once an HD fiber wig or topper has frizzed, it goes in the trash or you have to cut the frizz off. That is not the case.
You can have your wigs or hairpieces for years if you take good care of them. Wigs are an investment and if you are not great at styling, I encourage you to find a wig professional in your area and have them maintain them.
Do you have a wig you didn't wear or just didn't like the color? Join my FB group and sell or trade it with a wig sister! See ya there!
Love it? Pin it!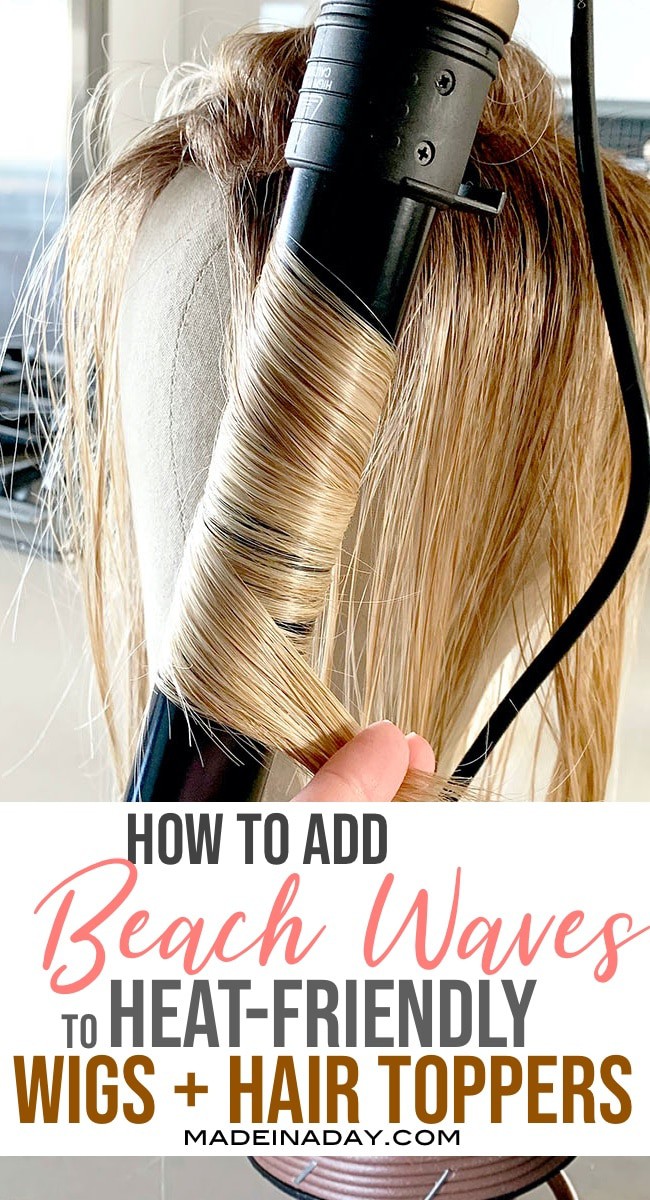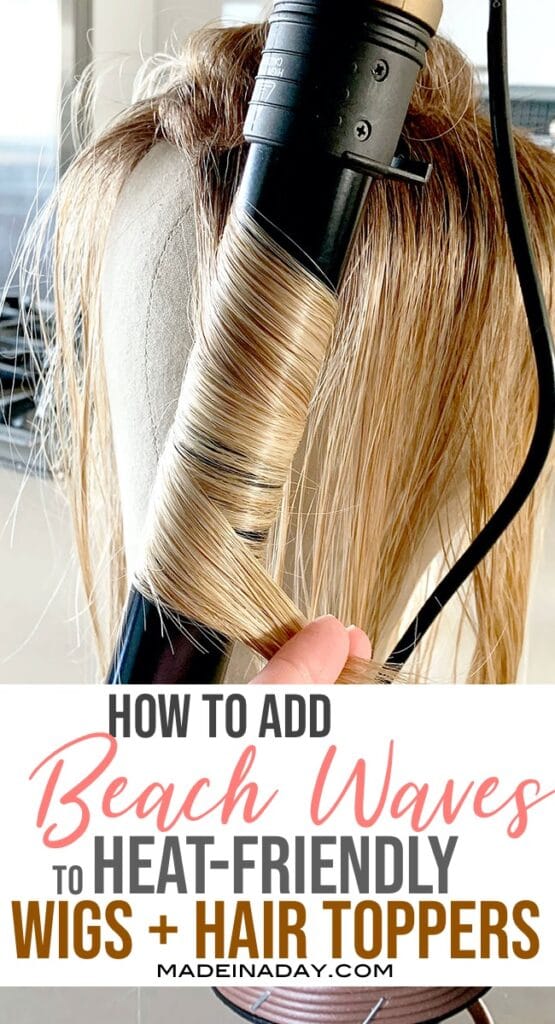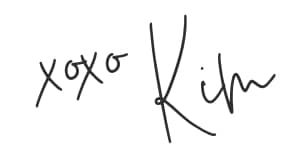 Products Mentioned
There are more items in my Amazon Storefront Wig Shop
See more of my Wig + Topper posts!