Jon Renau Human Hair Top Smart 18″ Color: Venice Blonde
Disclaimer: Please note that some of the links below are affiliate links and at no cost to you I will earn a commission if you purchase through those links. See my Disclosure + Privacy Policy for more info. As an Amazon Associate, I earn from qualifying purchases.
Have you been wanting to try a hair topper but you are not into synthetic hair? The Jon Renau Human Hair Top Smart 18 in color Venice Blonde may be the topper for you! For more hair tips read the Fine Thin Hair series. Read about my hair journey, and that replacement tech in the wig industry before I was a blogger!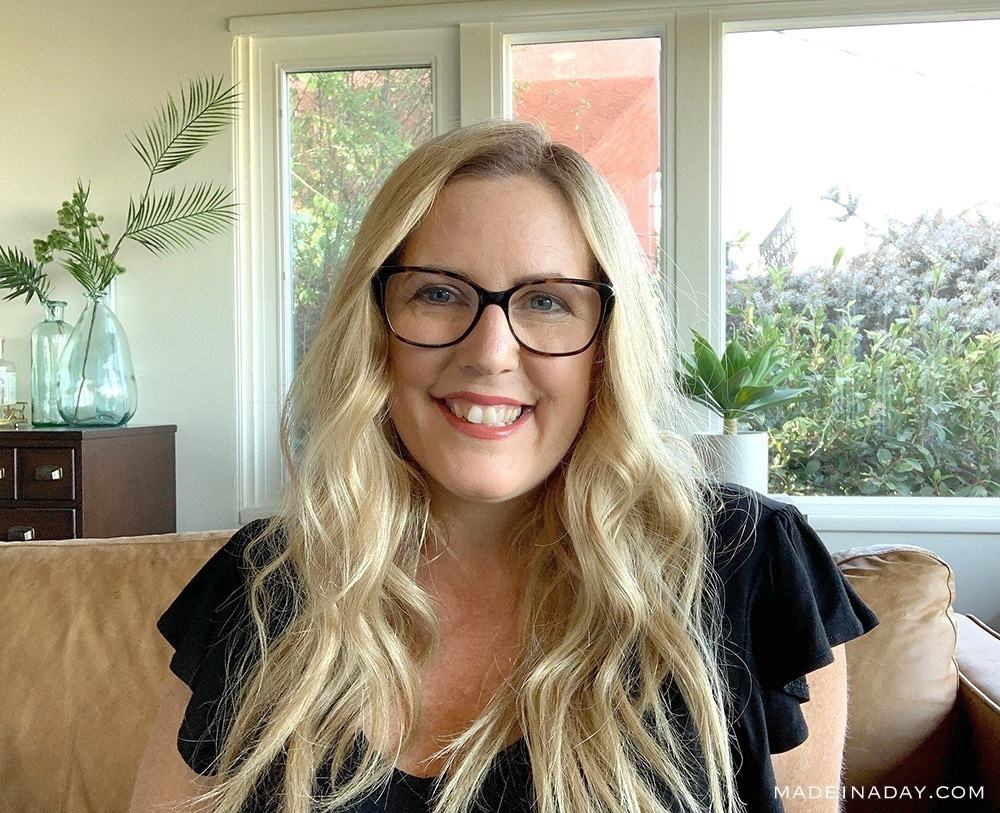 Jon Renau Human Hair Top Smart 18
Today I am partnering with my friends at my favorite place to buy hair Pinkee Promise, to show you the gorgeous Jon Renau Human Hair Top Smart 18 inch Topper. Read on for the ins and outs of this topper that is large enough to be a wig alternative.
Up to this point, I have been wearing synthetic hair toppers and I do love them. Mostly because you do not need to restyle them. Synthetic hair is pretty much wash and wear. With that being said, there is just something about having a human hair topper that I think we all long for when we start to lose our hair. There is no reason not to get the hair of your dreams the second time around!
Human hair looks feels and acts pretty much like our bio hair. There is no worry about that pesky wig shine or the synthetic fibers blending correctly with our own hair. The only drawbacks with human hair wigs and toppers are having to straighten or curl the hair and keeping the color from fading. You just need to decide what works best for your lifestyle. For me, I like both synthetic and human hair toppers.
The Hair
Right out of the box, the first thing I noticed about the Top Smart Human Hair Topper is the hair density. It is light to medium, which on me looks more natural than a thick heavy part or crown. I want it to look like my natural hair. My bio hair was fine and a medium density and this topper is a perfect match for me. It weighs 5.5oz, so even though it is 18 inches it doesn't feel heavy like you are wearing a ton of hair.

The hair on this topper is 18-inches in length and made with remy human hair. The word "Remy" means the hair is harvested from the donor with the hair cuticles all going in the same direction. This makes the hair smooth and silky and prevents the hair from tangling and matting when sewn into a wig or extensions.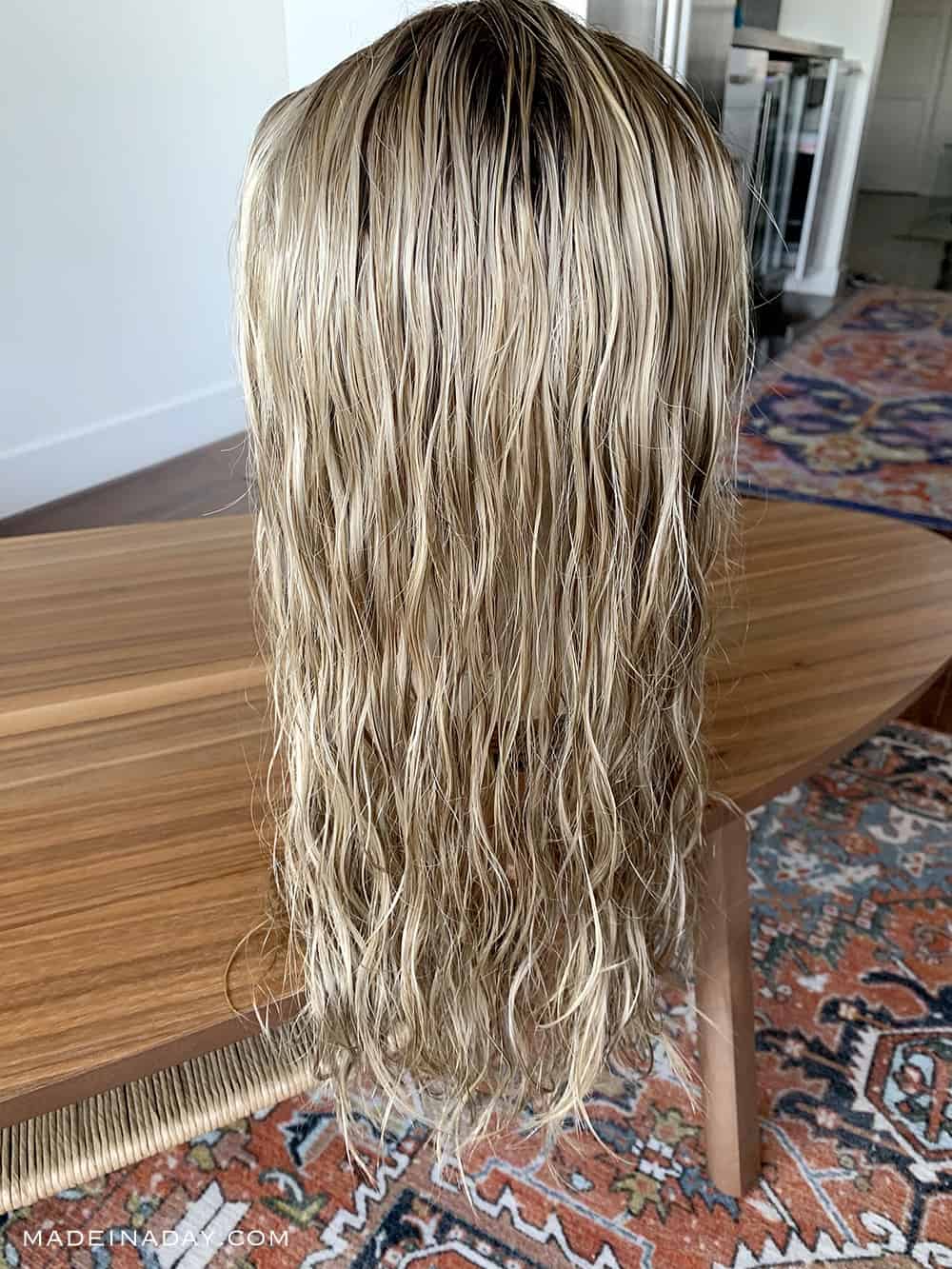 I decided to show how this topper looks when it is wet. It has loose nice relaxed beachy waves. Jon Renau reccomends blow-drying the hair to keep the hair from frizzing. I let this one dry by itself overnight and the waves were perfect beach waves.
What is under the Hood?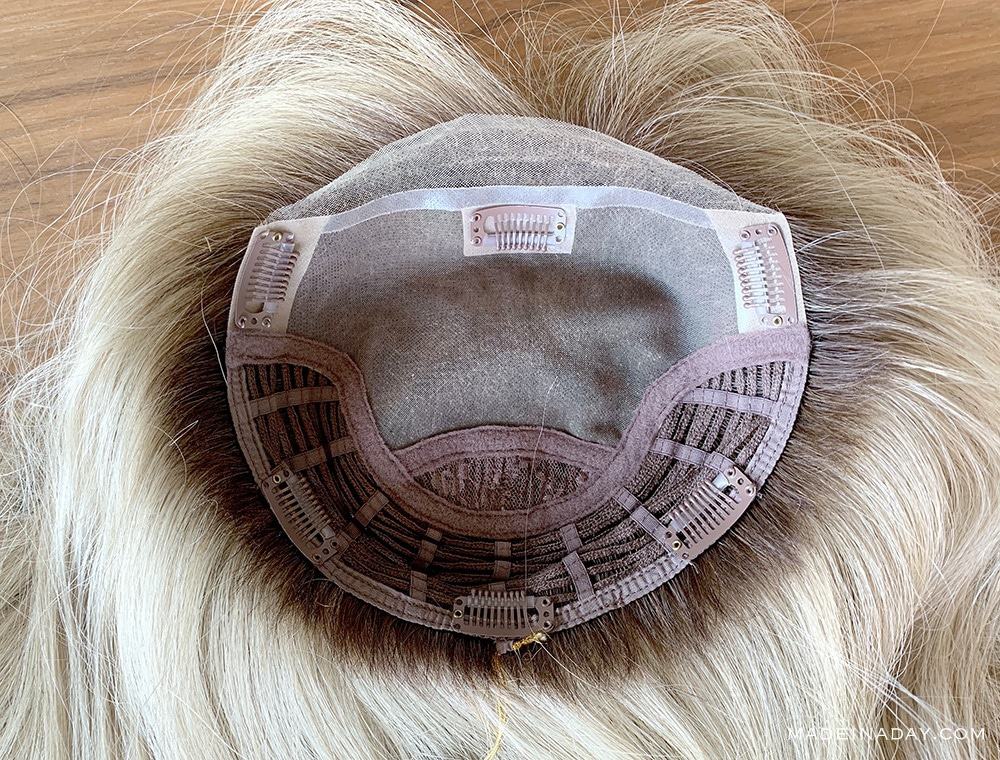 The Top Smart is a lace front topper. The base size of this topper is 9 X 9 inches. It has 10 wefts surrounding a lace front single monofilament base. This is a large size topper for the advanced stages of hair loss.
It is a bit larger than the other toppers I normally wear. I am at the beginning-mid stage of hair loss and usually wear a 6.5 or 7-inch base. But even though this topper is much larger, I find it comfortable and lightweight. I can hardly tell that it is a larger size and I am loving all the extra fullness from the side wefts.
The base comes with 6 nonslip clips. Three of them are sewn to polyurethane coated tabs as you can see above. You can remove these clips and use the poly-coated tabs for adhesive attachments. Pretty clever design for a mono base.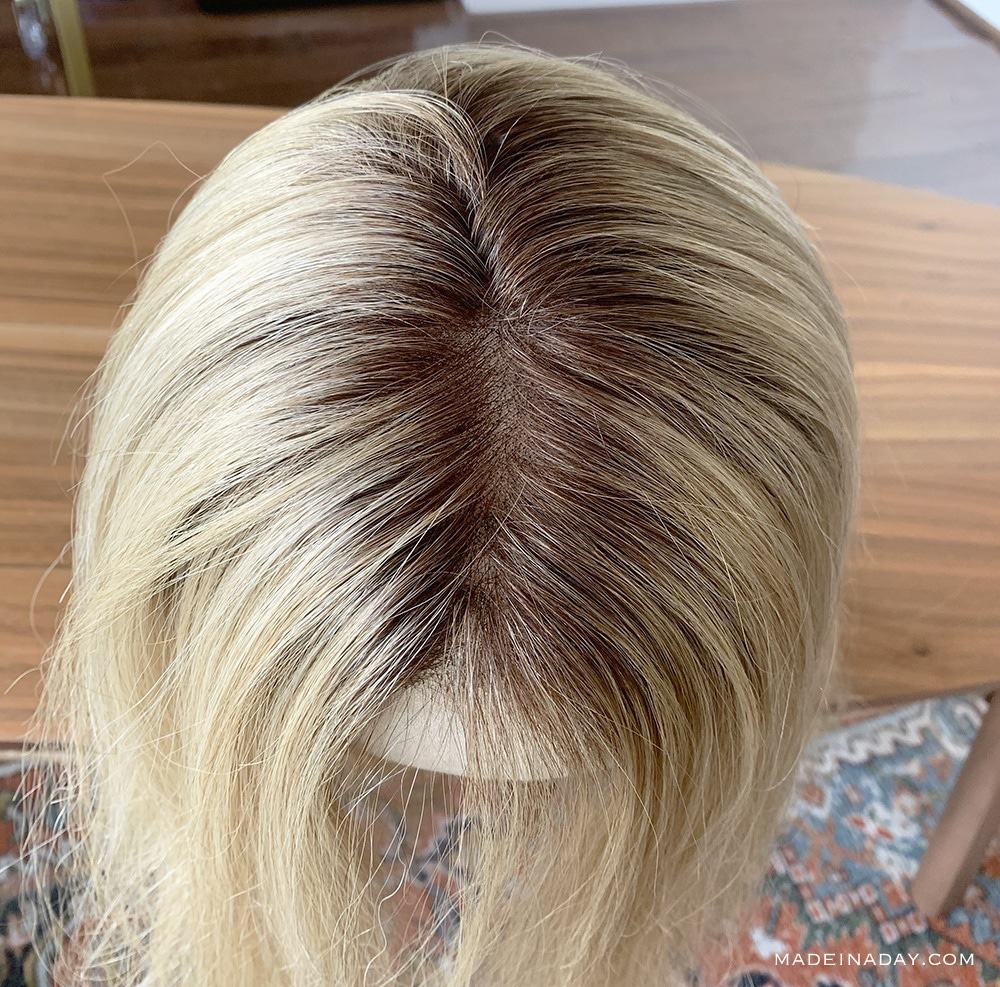 The top center part area is made with a single monofilament layer to enable you to part in any direction and have a natural hair growth appearance. This piece has a lighter part area and thicker back coverage with wefts. I like it this way because it looks more natural on. Really thick part lines to me do not look realistic.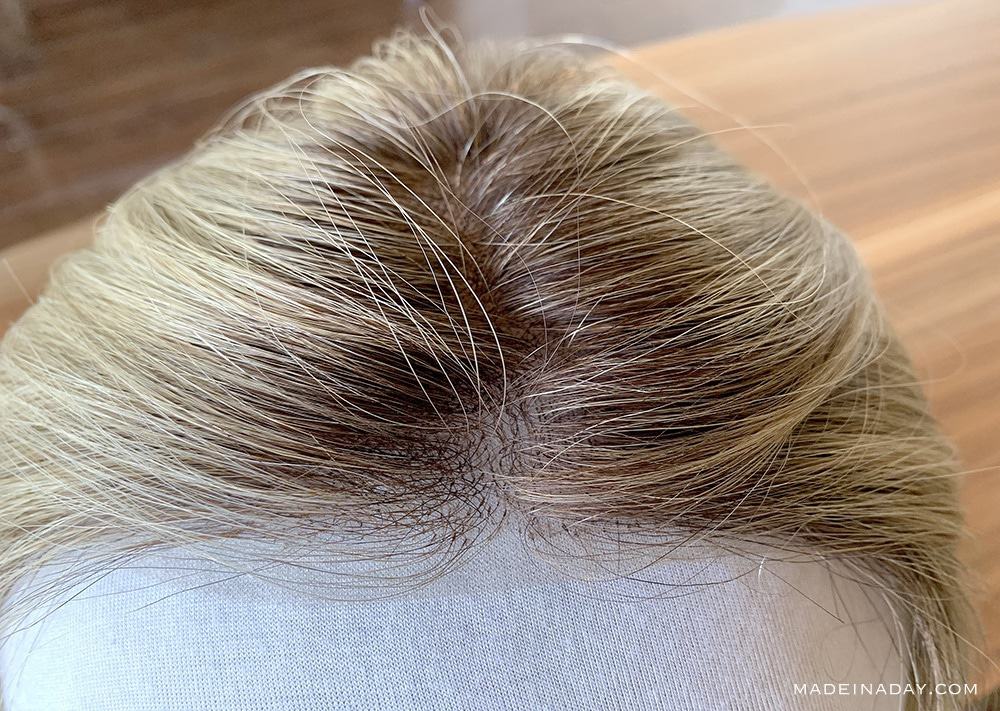 The front hairline is made of SmartLace™ a welded lace front that makes an amazing natural hairline. The hair in the Smartlace™ is hand-tied one by one for the perfect hairline. It literally looks like it is growing out of your head.
You can wear this topper behind your hairline or use the SmartLace™ front as a new fuller hairline if you have recession.
The Trendy Rooted Blonde Color!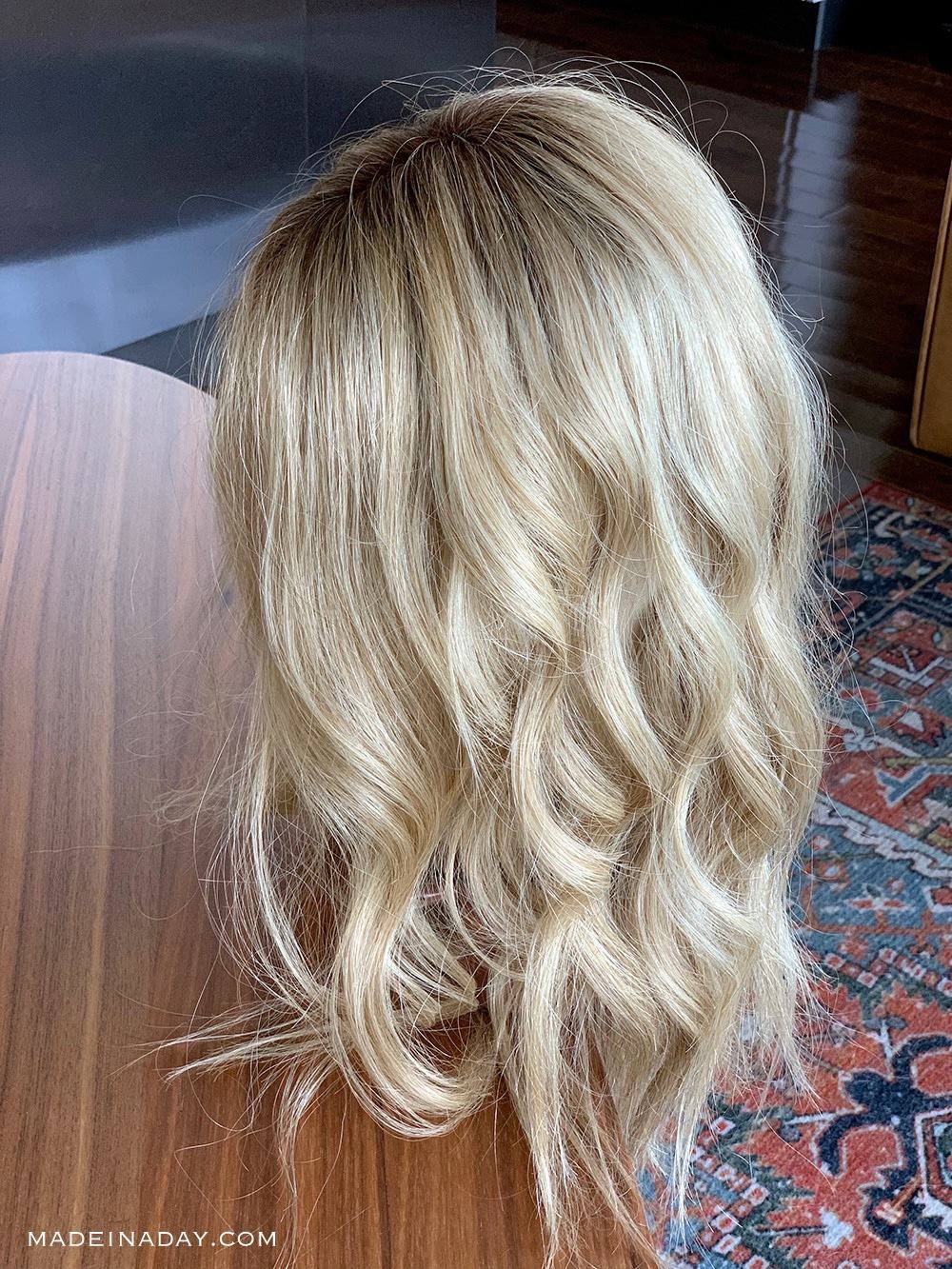 Jon Renau's California Blondes Collection is every blonde's dream! Last time I chose the gorgeous Malibu Blonde but this time I wanted a lighter color with a dark root. So with some expert help from the amazing Cheryl at Pinkee Promise I went with #22F16S8 Venice Blonde. Venice Blonde is a light ash blonde and light natural blonde blend with medium brown roots.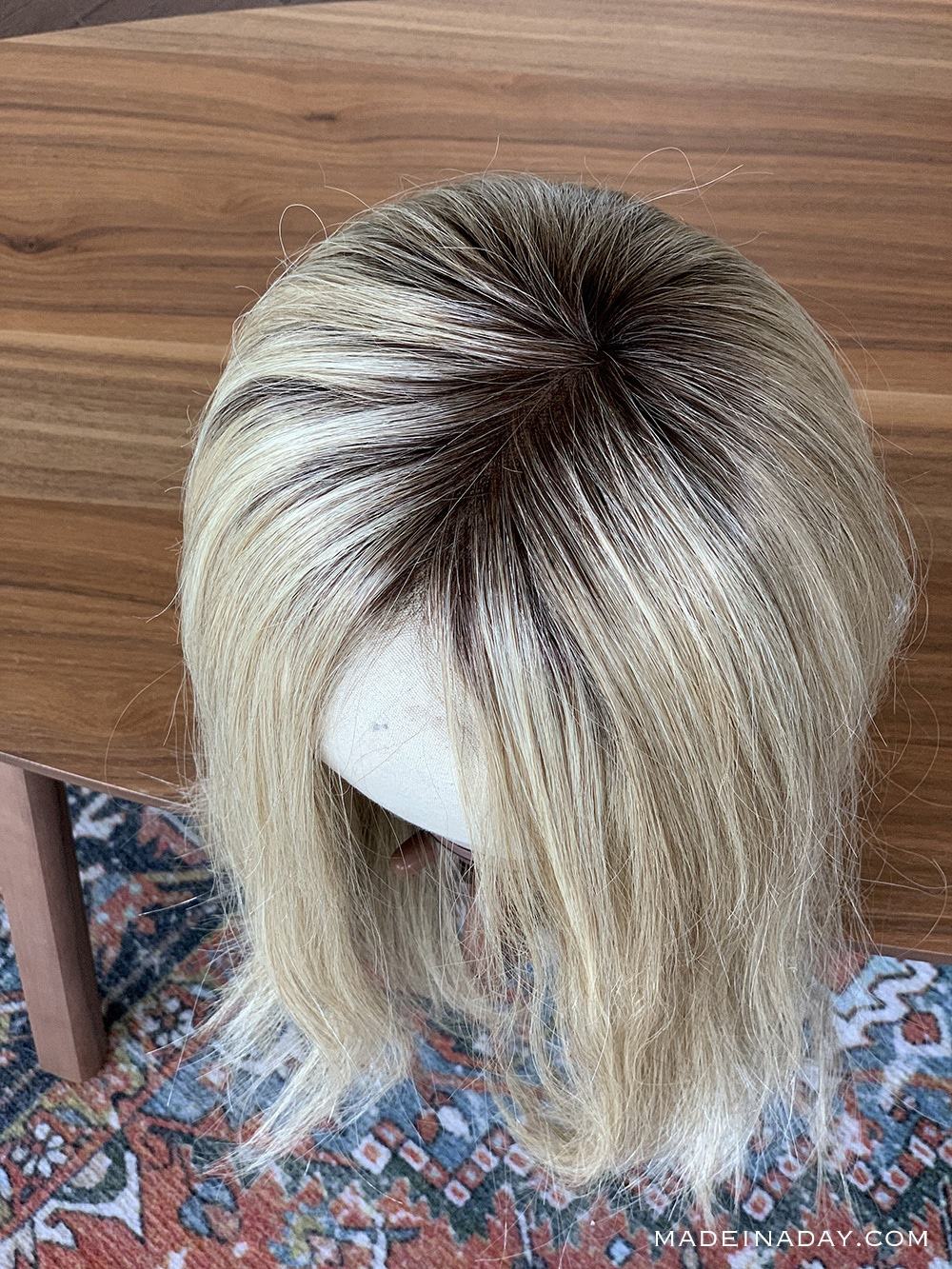 The dark rooted blondes are really trending right now and I wanted to try one for my fall wardrobe. This color did not disappoint. It is perfect! Plus if I want to make the roots deeper or longer I can color it to the shade I choose. Another great perk of having a human hair topper. Custom coloring!
So what's the gist of the Jon Renau Human hair Top Smart 18″?
Pros:
Covers large thinning hair area without having to wear a wig
Beautiful blonde color with trendy dark roots
Able to color hair for a better color match
You can style your hair any way you like with heat appliances
Feels exactly like your natural hair
Medium-light density for a more natural look
Base adaptable for adhesive attachments
Universal hair parting
lightweight long hair topper
Cons:
Having to touch up the style every time you wear it
Having to wash, blow-dry and style to maintain it
Having to color the hair to keep color from fading
This piece would be great in smaller base sizes for beginning to mid-progressive stages of hair loss
For this piece, the pros outweigh the cons. I really love this topper, the hair is soft and silky and looks perfect styled. I will be cutting it a bit and maybe make the roots more prominent. Those are my personal preferences, not much needs to be done out of the box. For the price, I would say it is worth the promise that the hair you get is a gorgeous color and in great condition.
The 18-inch hair on this topper was just a little too much length for me, so I cut it down around 16 inches. I added fun beach waves with a 1-inch curling wand. To customize it more to my style, I will be coloring the roots to make them longer around 3-4 inches.
Let's talk about my go-to supplier for toppers, Pinkee Promise. I found Cheryl when I first started looking at toppers and hairpieces. She is a true gem, wig color expert and wig specialist. I bought my first topper from her!
Pinkee Promise not only sells wigs and toppers, but they also sell Breast Cancer post-op essentials, mastectomy bras, breast forms, and more. If you sign up for their mailing list you will get a coupon to use on your first wig purchase!
Subscribe to the Pinkee Promise newsletter to hear about sales, promotions, new releases, and receive 30% off your first wig order!
Do you have a wig you didn't wear or just didn't like the color? Join my FB group and sell or trade it with a wig sister! See ya there!
Love it? Pin it!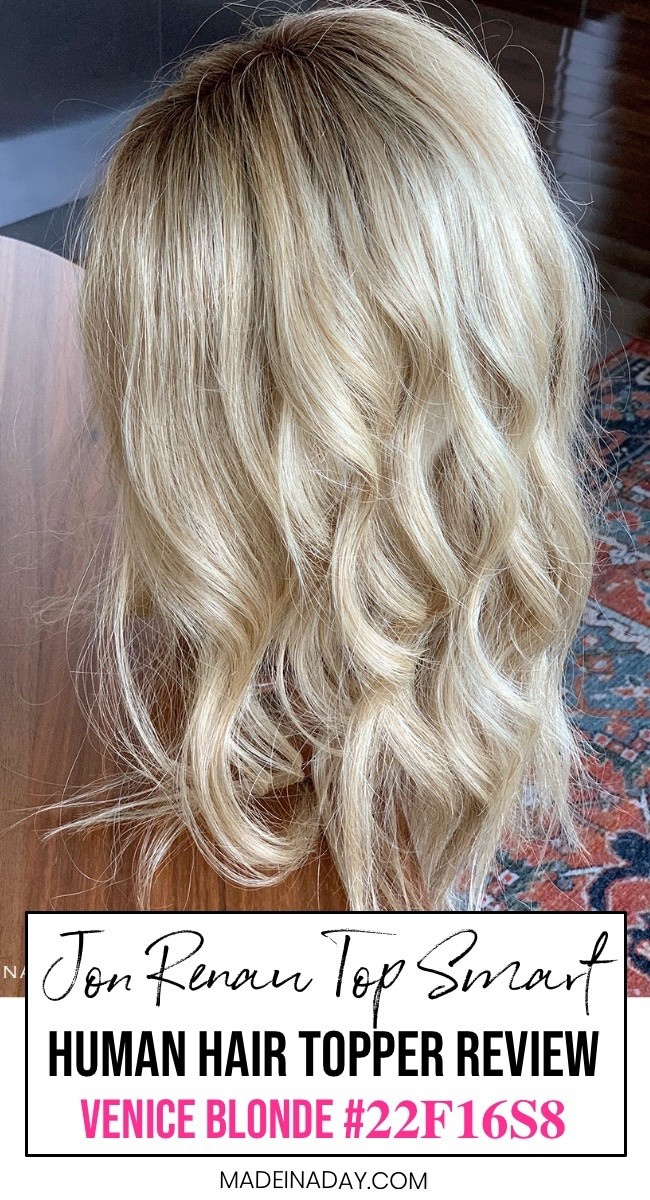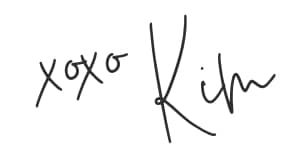 This post was partnered with pinkeepromise.com and all opinions expressed in my post are my own.