How To Turn a Lace Front Wig into a Hair Topper
Disclaimer: Please note that some of the links below are affiliate links and at no cost to you I will earn a commission if you purchase through those links. See my Disclosure + Privacy Policy for more info. As an Amazon Associate, I earn from qualifying purchases.
Step by step instructions on How to turn a lace front wig into a Hair Topper. Super easy cut down of a Belle Madame Angelina wig and make it into a hair topper. For more wig topics see my Hair Toppers page.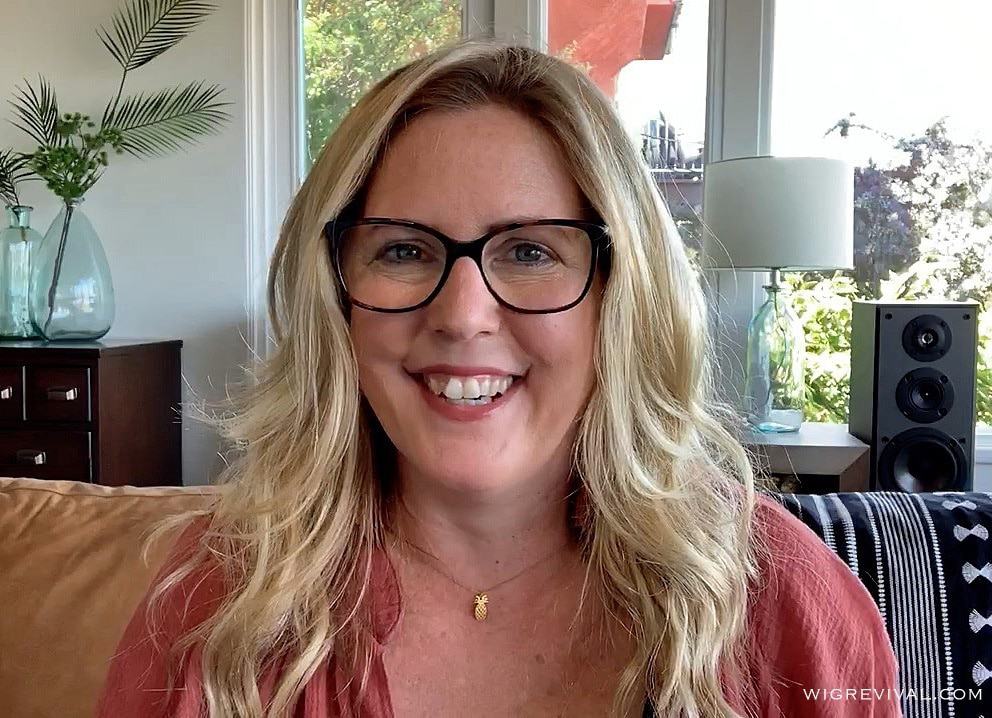 Thinking of trying to cut down a wig and make it into a hair topper but were afraid you would mess it up? Here is how I took one of the wig lovers' most coveted wigs and turned it into an incredible wig topper!
A couple of years ago when I first started thinking about wearing toppers, I turned to YouTube videos to see if I could find the best wigs and hairpieces the companies had to offer.
I wanted the wigs that people were raving about. Two of the wigs that I found that seemed to be the most popular are the Carlotta SF and Angelina Mono SF by Belle Madame Wigs. I instantly had to have them.
The problem with them is that they are made by a company based in the UK. They seem to be randomly in limited supply with wig retailers in the US.
I could not wait for them to be back in stock, so I ordered both of them straight from a UK company called Continental Wigs. (Psst.. in the video I say I bought them in London, I was wrong it is Lutterworth which north of London. Sorry about that.).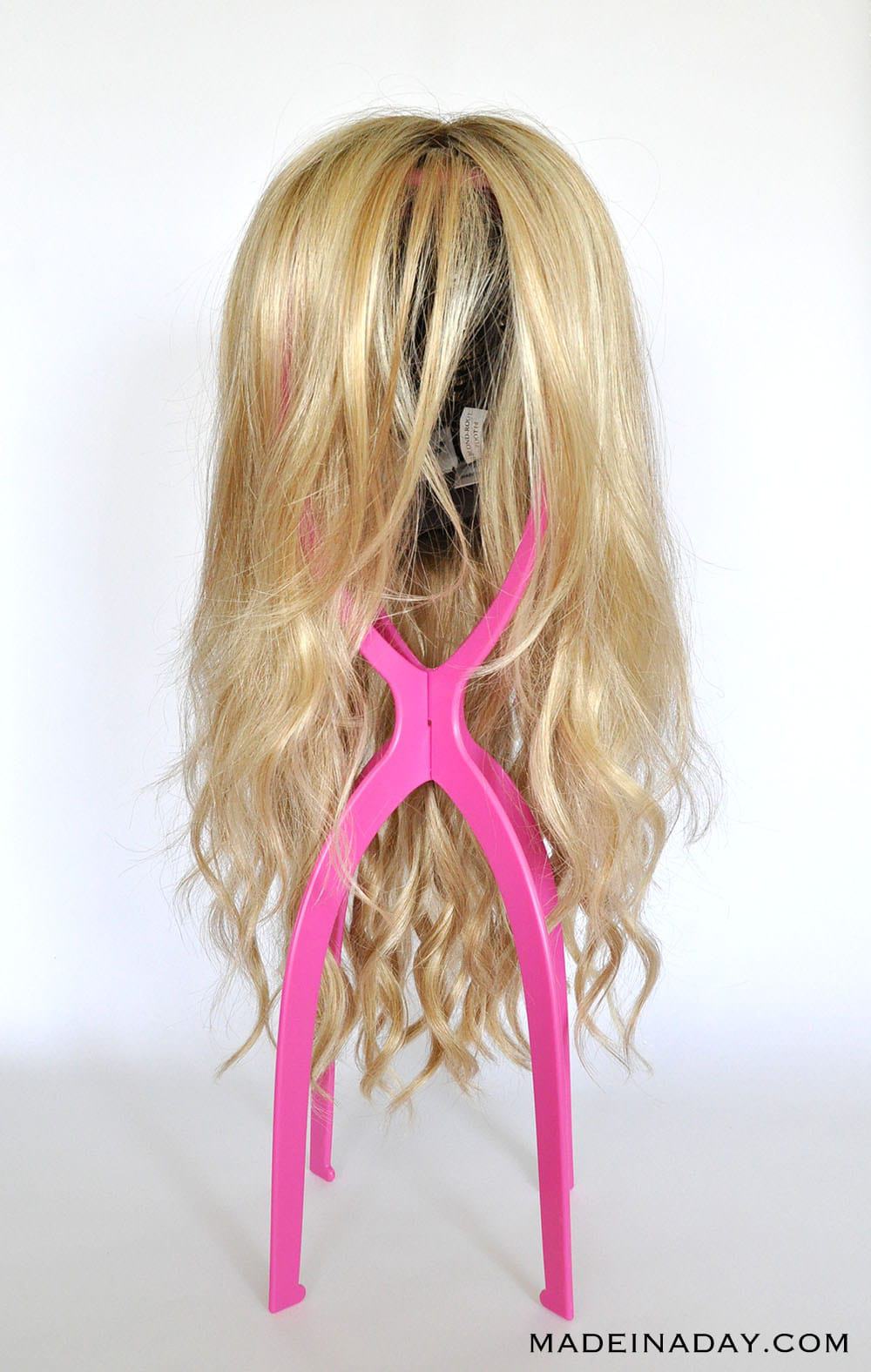 My favorite of the two wigs was the Angelina Mono SF. The Mono is short for a sheer monofilament top. The SF is for super front super fine welded mono front edge. The sheer top and fine lace front make this beauty almost undetectable on the scalp.
When I got the Angelina in the mail. I was so excited. I tried her on and instantly fell in love with her.
The problem is I still had a lot of my own bio hair on the front hairline and the lace front hairline on this wig just didn't look right on my forehead. I came to the conclusion I just am not ready for a full wig yet. So back in the box it went.
Now fast forward to almost two years later. I am actively wearing hair toppers. I get an idea and I pull the Angelina out of her box and contemplate cutting her base down to topper size. (Ha, I had done that many times but I never had the nerve to cut it down).
This time I said what the heck, it will be a while until I can wear it anyway. I threw caution to the wind and did it! Oh my, how great she turned out! She is amazing! So amazing I made a video about it. You can see it here.
After making this video, I wanted to also do a blog post with up-close images and more details so you could feel confident cutting down a wig. Here is a detailed tutorial on how to cut a wig down to a hair topper!
How To Turn a Lace Front Wig into a Hair Topper
FIY! Before you attempt to do anything drastic to a wig. Read this disclosure: Made in a Day and Wig Revival are not liable for any damages, injury or loss resulting from any inspiration, ideas, directions or information gained from this website. See my privacy policy and disclosure page for more info before trying any tutorials on this site.
I chose a lace front wig to turn into a topper because the base looks almost exactly like my all-time favorite topper, the Belle Tress Top Wave. I knew before I cut the Angelina down it would be a close match.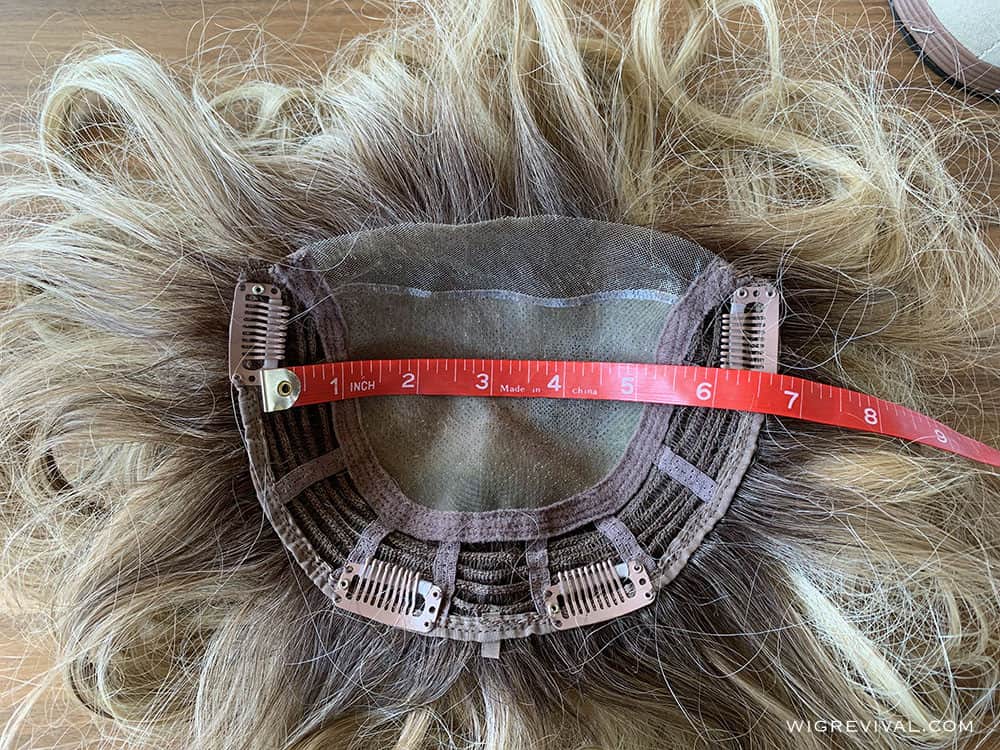 Measure your existing topper to get the correct dimensions for the new piece. If you only have a wig and no previous topper measure the thin areas of the top of your head.
I put my topper 1 inch behind my hairline and use my bio hair fluffed up in front of it. Measure accordingly to accommodate for that 1 inch.
Some of you may put your toppers all the way to the hairline and that's fine too. Most toppers go just beyond the edge of the crown in the back.
The Belle Tress Top Wave is 6.5 x 6 inches. I made the Angelina wig a little bit larger and then tried it on to see how it fit. I then cut it down a weft or two more to fit the top of my head.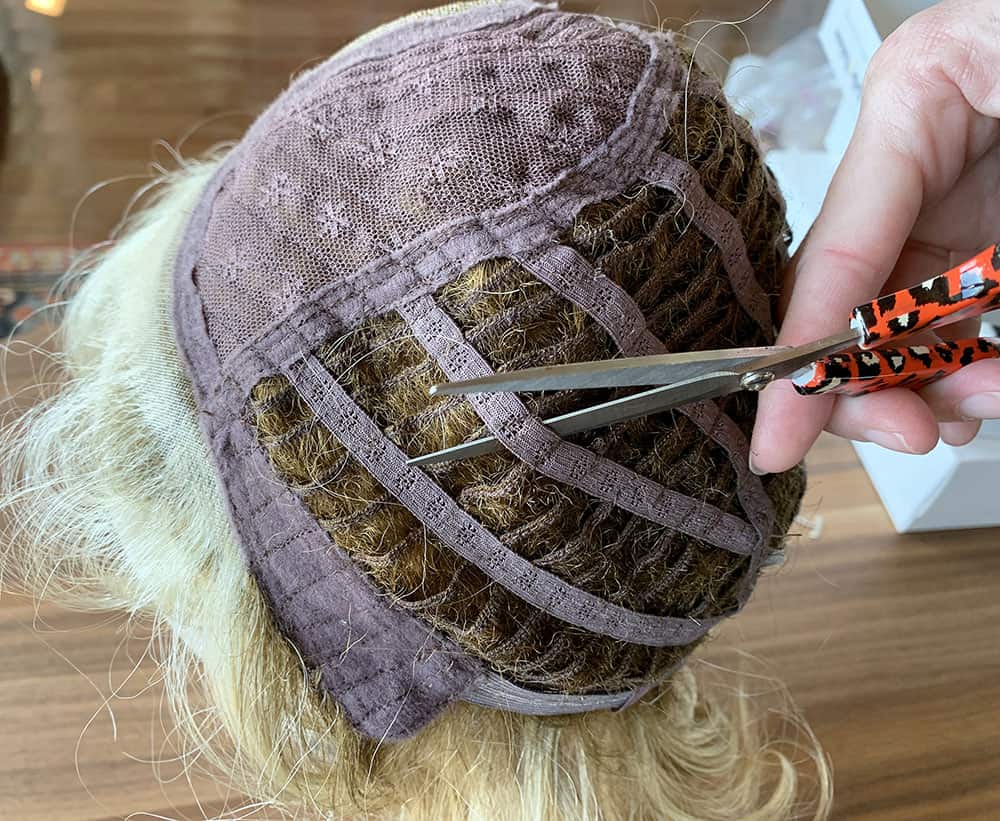 Find your correct measurement on the wig. Using sharp scissors, cut the vertical bands just below the last/bottom weft for the length you measured the topper. DO NOT cut through the wefts they will unravel.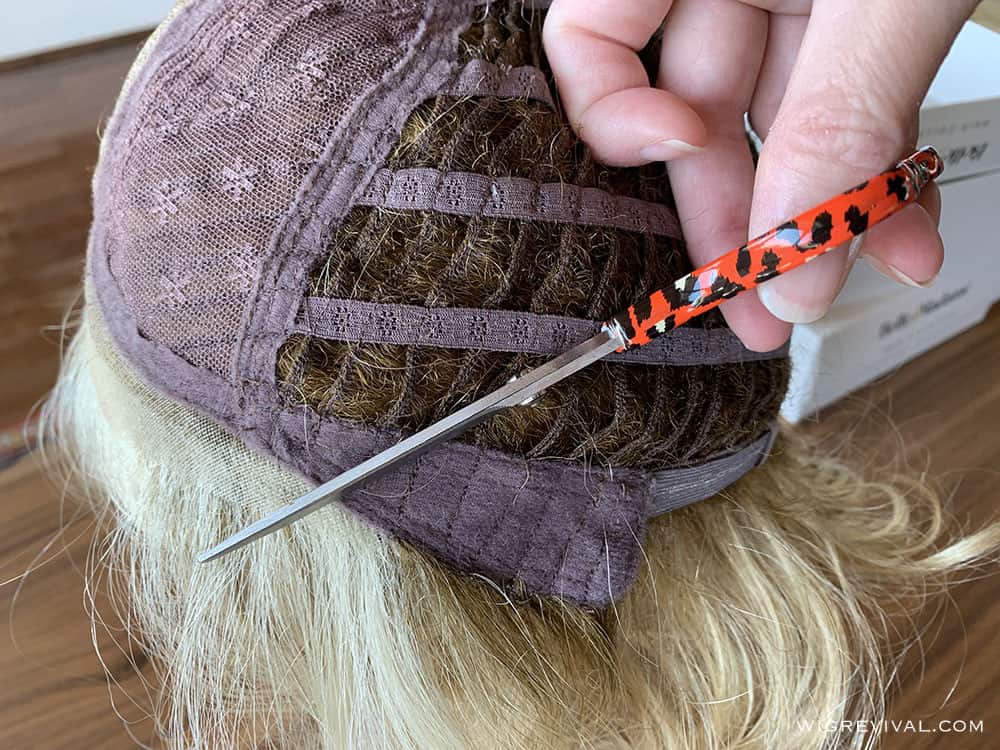 IMPORTANT! On the sides where there is solid fabric, you must flip the piece over and part the hair where you plan to cut. Do not just cut through the fabric or you will cut through the hair on the other side.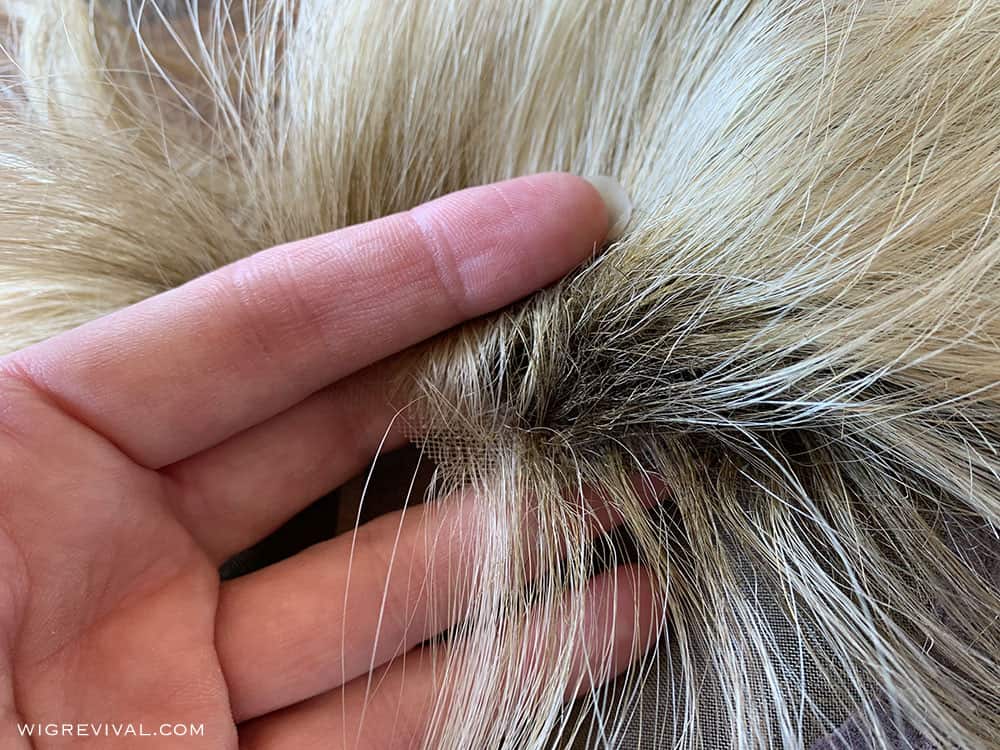 Slide the scissors on the parted area and gently cut the fabric. Again do not cut through the hair it will leave short stubble.
Wigs can be made of several thick layered materials. Sharp hair cutting scissors or fabric scissors work best when cutting them down.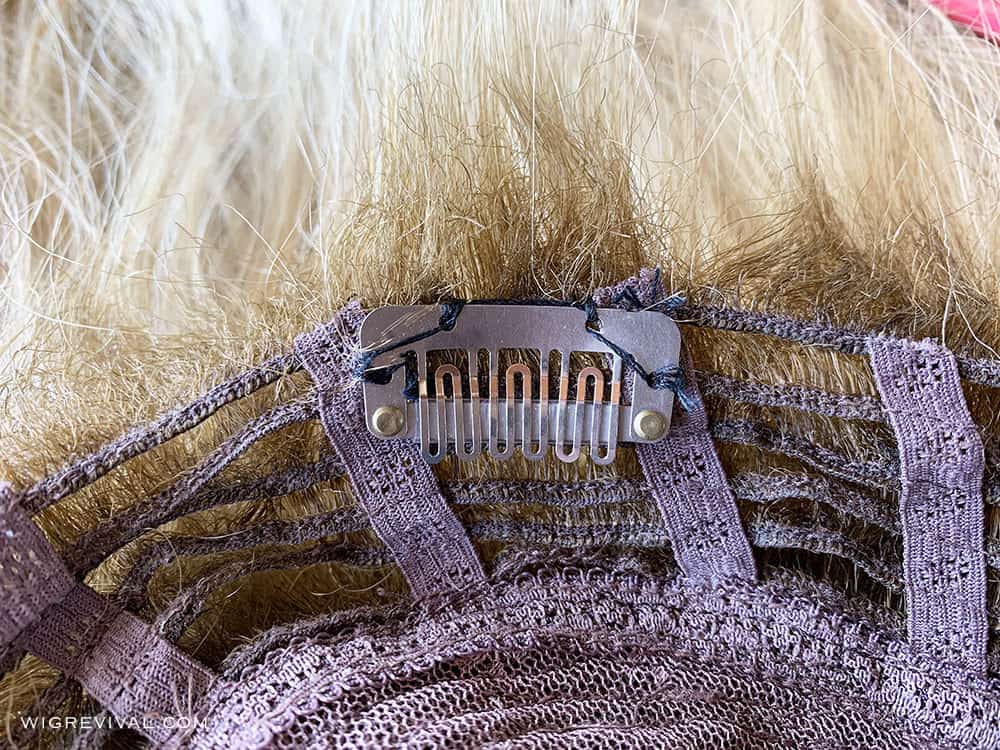 If you accidentally cut through a weft, just take a thin needle and thread and sew it back together. Sew 4 large hairpiece clips evenly around the piece with needle and thread.
This will help keep the base sturdy since there is no outer band to keep it secure.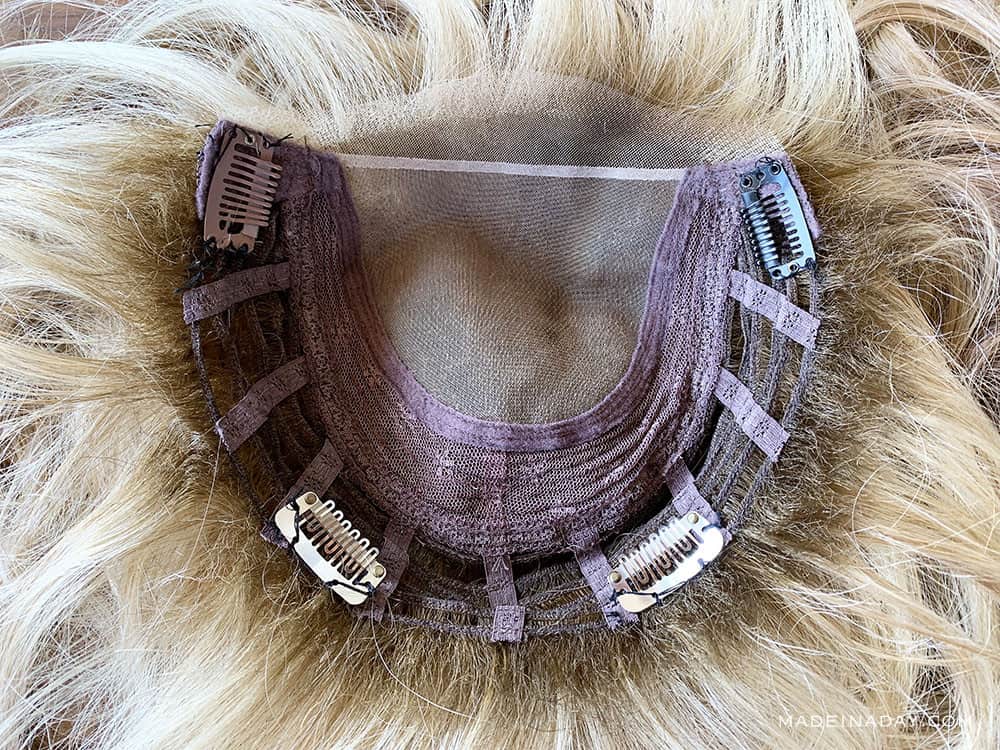 Trim the lace front on the side corners so they are curved and not pointed. If you find your piece is still too big just trim it down another weft or two, add clips again and try it on.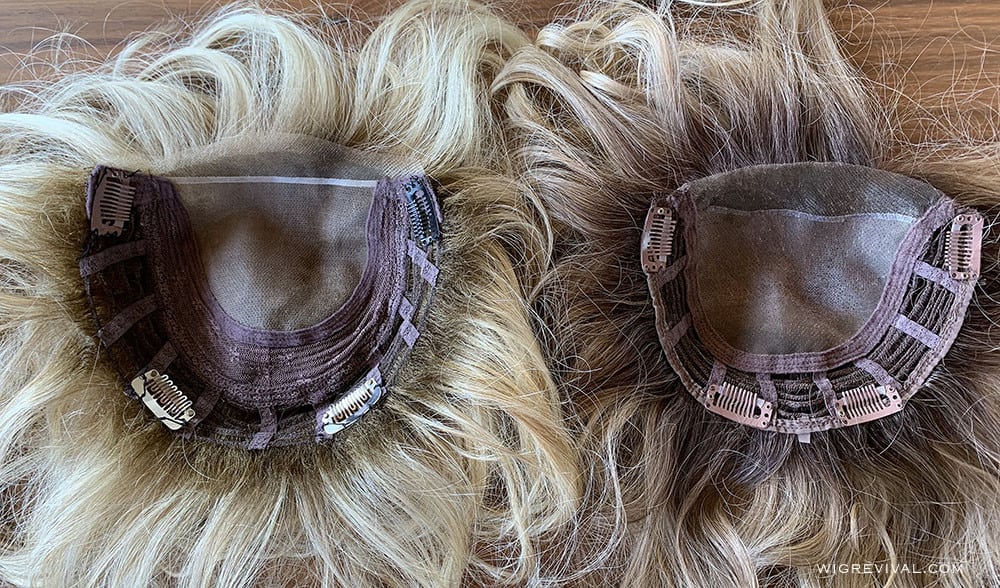 You can see above when the Angelina (left) is finished it looks very similar to the Belle Tress Top Wave (right).
Cutting Down Wigs with Fabric Bases:
You can also cut down regular wigs without mono tops and lace fronts. Inspect the base thoroughly before you start cutting.
Just a word of caution. You want to be careful not to cut through wefts or other sections that may not hang well or be the right length when they are cut down short. Measure the hair length and base carefully before you cut.
How to Make Clip-on Hairpiece Extensions or Clip-on Weft Extensions:
I had a nice big section of the bottom layers of the wig with wefts left over after I cut the Angelina down. You can add 10-14 clips to this piece and use it as a clip in hairpiece for the back of your hair. Or if you prefer you can cut the wefts apart and make clip in hair extensions as well.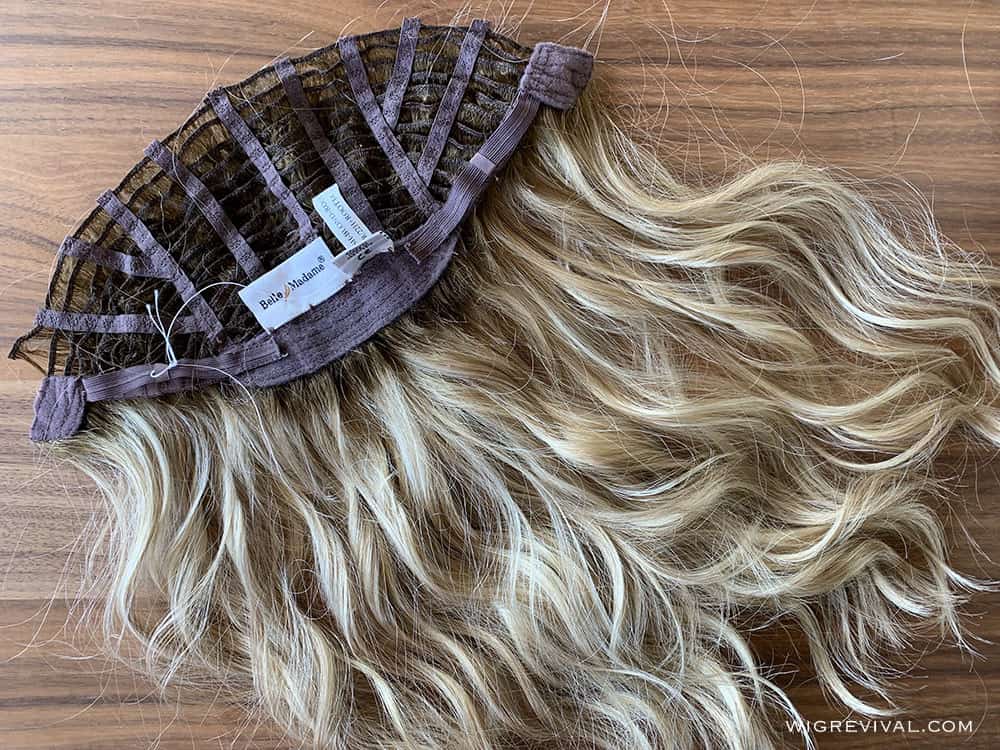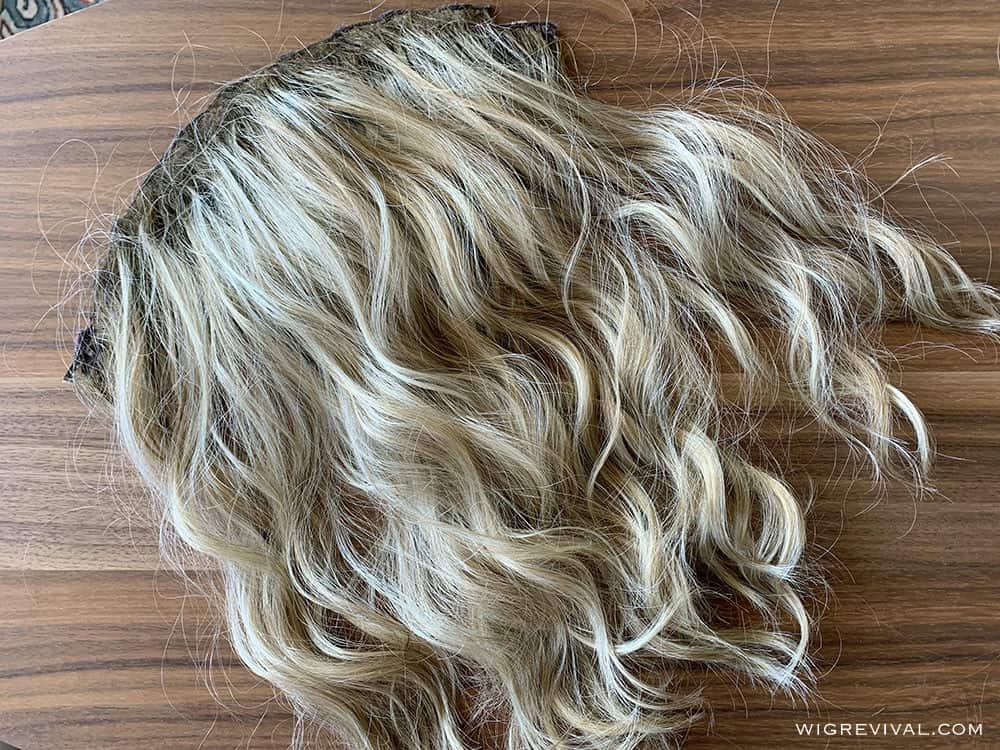 Look how beautiful those beachy waves are. They would make great extensions or maybe sew them together to make a Halo type hairpiece. The back part of the incredible Angelina wig doesn't have to go to waste.
I hope I have empowered and inspired you! It is tough to start wearing helper hair. Believe me, I know. Do you have a wig you might have bought but just could bring yourself to wear? Maybe you are not ready for them like me?
This could be an easy solution to getting started with toppers! Make sure to check out the video above and if you like what you see I would love it if you would subscribe to my Youtube Channel Wig Revival!
Do you have a wig you didn't wear or just didn't like the color? Join my FB group and sell or trade it with a wig sister! See ya there!
Shop my Fav Wig Essentials
Love it? Pin it!