My Fine Thin Hair Dilemma Journey
Disclaimer: Please note that some of the links below are affiliate links and at no cost to you I will earn a commission if you purchase through those links. See my Disclosure + Privacy Policy for more info. As an Amazon Associate, I earn from qualifying purchases.
My personal thin hair journey, The Fine Thin Hair Dilemma! Tips & Tricks from a former hair replacement hairstylist. To read the whole series and more see my Fine Thin Hair page.
The Fine Thin Hair Dilemma
Before I was a blogger, I was a hairstylist, my job was pretty unique. I worked in the hair loss business maintaining, cutting, and styling wigs and hairpieces. In this post, I am sharing my fine hair tips and tricks that I have learned throughout the years. Plus how I am dealing with my baby fine and now sort of thinning hair.
This is not a sponsored post, but my true feelings on my own personal hair dilemma and product use. Join me for my story. My fine thin hair dilemma.
POST UPDATED: 12/2021
First, let me begin with this, I have been a licensed cosmetologist since the late 1980's. I also worked in the Hair Loss industry cutting and maintaining hairpieces and wigs for over thirteen years. I guess you could say I have pretty much seen and tried it all.
I have tried, used, and tossed out many of the countless fine hair products that are out there and would like to share my favorite drug store and salon finds with you. Then when you are finished reading this post you must check out Fine Thin Hair Dilemma Part 2 of the 3 part series for more tips. Halos, Wigs and Toppers Part 3 is where I talk about helper hair. I will show you the ins and outs of my fav wigs, toppers, extensions, and more.
The Beginning of the Damage
Let's get started! One of the craziest decades was the eighties. Being a teenager back then meant having big hairstyles that stood sky high with many ranges of colors. Everyone had curls, perms ruled the era! Male or female we all had them. Excessive permanent waves and bleaching, unfortunately, damaged my hair and scalp.
Wait let's back up a minute, my whole life I have had fine hair. I know from seeing my grandmother's super baby fine thin hair and my mother's fine thin hair that I was doomed to inherit their hair loss.
In the back of my mind I have always known that eventually, I would be sitting in the chair instead of standing behind it. Well, that time has come. (See Part 3 of the series).
Hopefully, this post may help some of you out who just like me have thin hair, hair that is hormone ravaged, or a medical situation. Sometimes the best ideas and tricks are shared between friends in the same situation. I am going to let you in on what I have found that works for me and in that it may help one of you out there with the very same issues or maybe we can just cry together.
The damage to my hair in my teen years from the eighties consists of Sun-in hair lightening spray, painting "on the scalp bleach" on my hair with a toothbrush to excessive highlighting and double processing. Double processing is when you have highlights and/or hair color then get a permanent wave on top of that. That's a lot of damage, believe me, my hair has been felt like mush and broken off more times than I can count from extreme overprocessing.
To top that off, at one point I had hair extensions in the crown and front sections of my hair from the ears forward. The weight of the extension hair alone thinned the hair out around my hairline. It never recovered.
I still highlight to this day, but I now have to color my hair all over every couple of months because of the new pesky grays that are emerging. I could just stop the highlighting, but seeing my natural mousey brown color or a solid color freaks me out. It just isn't me anymore. To me, having highlights or low lights make your hair color look more natural. Like the sun would normally do to your natural hair.
As you age and start getting greyer, mother nature adds the lighter grey hair around the face. This naturally softens the wrinkles around your eyes and face. Grey hair dyed too dark makes your wrinkles look deeper and more noticeable. I choose not to see any grey. I'd rather color the grey with a semi-permanent color to appear as if it is highlighted instead.
Hormone Issues and Hair Loss
My new hair dilemma is pre-menopause hormone thinning hair. I have noticed since I passed the fifty mark that my hair is changing and feels different. The texture has changed and it has a dry shredded look to it sometimes, which then leads to it breaking off. The breaking off of the hair then makes it seem like it doesn't grow. The roots are somewhat normal but the ends break off too easily. Sound familiar?
I know this is due to hormones and the very stupid idea of trying birth control pills in my forties to relieve heavy periods. My body reacted wonderfully for the first year and then boom. My hair started falling out randomly in droves. Every time I had a fallout I would be devastated. I stopped taking the pills but my hair never recovered and still has "fall outs" to this day.
After quitting the birth control pills, I ditched my Gyno. I decided to take charge of my heavy periods. I found an amazing Gynecologist that's specialty was menopause. She ran tests on my hormones and found out I was Estrogen dominant. She prescribed Testosterone and Progesterone and an IUD to fix my pre-menopause heavy periods.
I decided to go with the testosterone for only a few months. I felt fantastic, my muscles were reacting and I looked great. But the drawback is if you take too much your hair could fall out like male pattern baldness and your voice gets permanently deeper. Yikes! So I was afraid to take the full prescribed amount and just quit it all together after 1 month. She ran another hormone test and the little bit of testosterone I took leveled out my Estrogen. Thank goodness.
I took 100MG of Progesterone for almost two years. I am now off of it. I still have the IUD with a small amount of Progesterone. So all in all, the progesterone/IUD combo fixed my heavy period issue. My hair is just not the same.
Thin Hair Solutions
Let's just say I have never had the hair of my dreams, but I have pretty much killed what I do have trying to get it! Lol!
Most of the products I am using these days are from drugstores, salons, beauty supply stores, Ulta, and Amazon. Again, this is not a sponsored post. I provided Amazon affiliate links throughout the post, so you can read the reviews or purchase the exact product I am talking about. Using my affiliate link does not cost you a thing, it just helps to support my blog.
I'm obsessive about the latest and greatest hair fix. Anytime something new and great comes out, I read as many reviews as I can about it then usually end up buying it. So let's get started with what I am into these days.
Shampoo & Conditioner~
Thoughts on Hair Restoring Products
I am not a big fan of most of the new hair-thickening shampoo systems. Most of the time they are full of silicone, flake, and build-up. I also do not like sophisticated pricey hair systems that contain Minoxidil. They do work to grow and thicken the hair, but as soon as you stop using them the new hair that "grew in" will fall out. That would probably send me over the edge at this point. Plus they smell strange and when I sweat I smell mediciney. Yes, I made that word up! Maybe I'll try them in the future if things start getting drastic.
My Secret Thin Hair Weapon!
Best Hair Products for Fine Hair
Fav Heat Tools for Fine Hair
There are a ton of newer more expensive brand curling irons and hair wands on the market these days. My advice is to do your research and read reviews. Here are some of the brands I have used.
Spend the money and get a nice one they are a life changer. These are my favorite irons for how to curl baby fine hair, use them to curl fine hair and make it stay in place.
I am not a fan of the ceramic curling irons. Although they claim to be better for your hair, they just don't seem to work well on my fine hair. The curl just will not hold at all. I may try them again in the future, but for now, I will use the hot ones I mentioned above on a setting for fine hair.
NOTE: The professional curling irons can get super hot, so make sure you do not turn it up too high or it may burn your hair or even burn it off. Yikes. Make sure you always set them to the fine hair setting.
When I finish with all the curls. I now have a head of velcro rollers. I spray them with a coat of hairspray and let them dry and/or blast them with a hairdryer. I leave them in while I apply my makeup, get dressed, or whatever. Remove the rollers, then use your fingers to break up roller marks and fingerstyle! Spray, spray and spray again.
This is pretty much my regimen for styling fine thin hair. I hope some of these methods and products will work well for you.
My Favorite Sunless Tanning Products
I originally wrote this post during tanning season. Here are my two cents about sunless tanning products. First, I love Mystic Tanning Booths and always get a few in the spring to start the season. Most places do a two for one for those of you, who haven't tried a booth tan. It's the best way to get your fake bake even, hands down.
Where I Am Now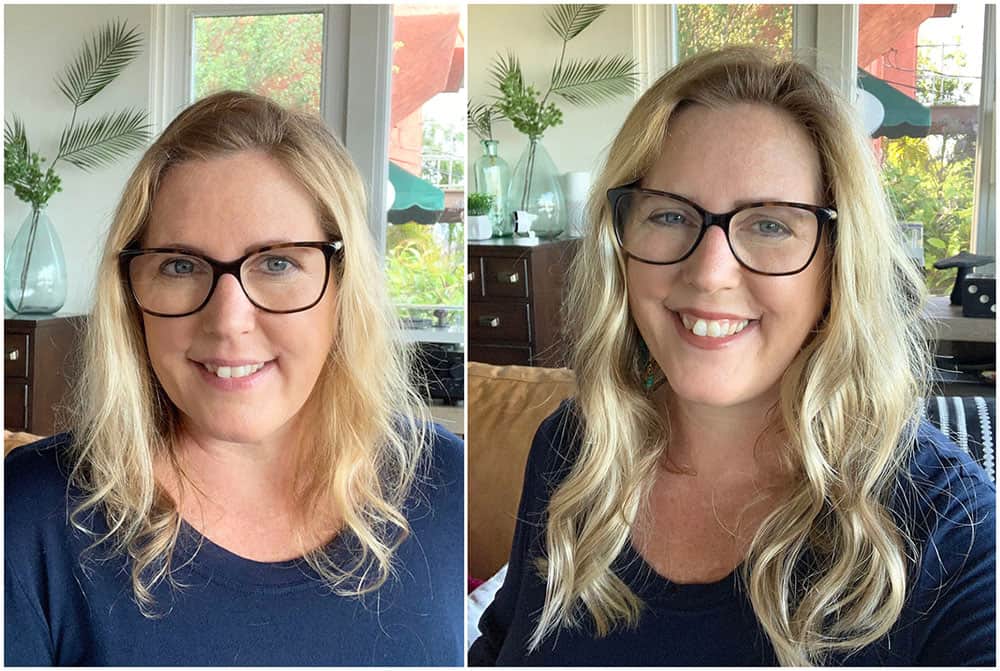 As of today, I am on a new journey, I accepted the fact that my bio hair will not be like it was 2015 and no Dr. is going to give me a magic pill that will let grow my hair back to what is once was. I have faced that fact and it is time to move on to getting what I want. Awesome hair.
I started wearing Hair toppers in late 2018 and it has been a learning experience even for me. If wearing helper is something you would consider do not miss part 3 in this series! Check out the Fine Thin Hair Dilemma: Halos, Toppers & Wigs.
But first, read part 2 of the Fine thin Hair Dilemma. There you will find more products I use and some interesting ways to conceal thinning areas, parts or hairlines.
SHOP THE POST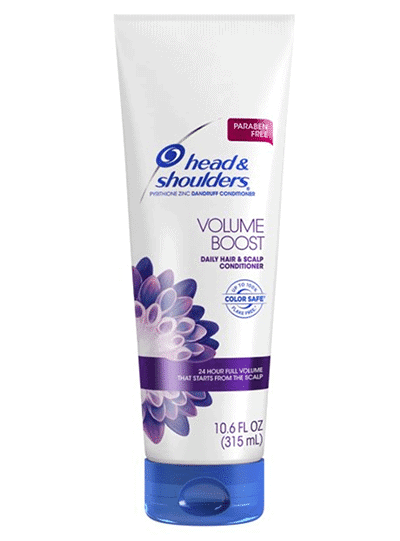 Now it's your turn. If you have a great tip trick or remedy that works for you. Please post it in the comments below! I'd love to try it and/or hear your story!
Do you have a wig you didn't wear or just didn't like the color? Join my FB group and buy, sell or trade wigs with a wig sister! See ya there!
Love it ? Pin it!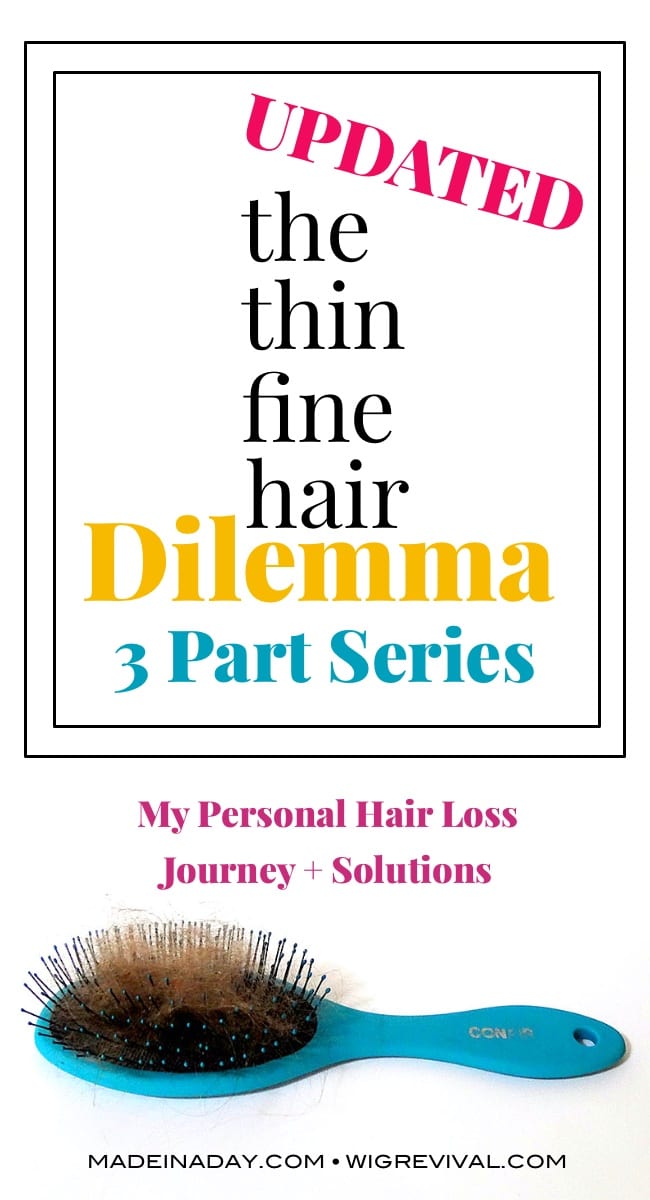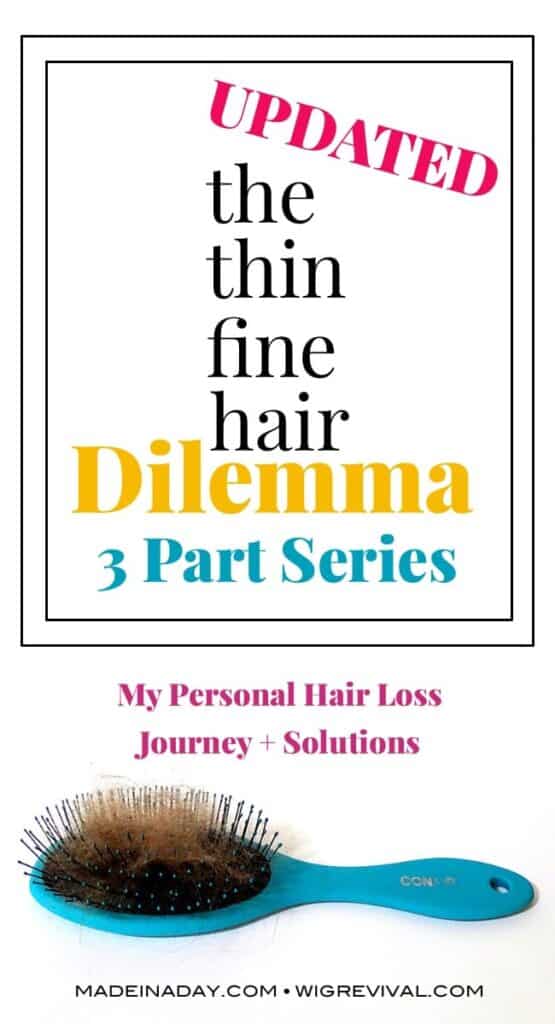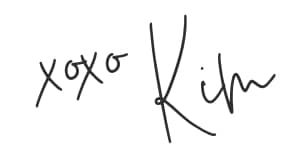 Now on to Part 2!!!