The Fine Thin Hair Dilemma: Halos, Wigs & Toppers
Disclaimer: Please note that some of the links below are affiliate links and at no cost to you I will earn a commission if you purchase through those links. See my Disclosure + Privacy Policy for more info. As an Amazon Associate, I earn from qualifying purchases.
Have you been looking to get that youthful fullness back into your aging, thinning lifeless hair? Then this Fine Thin Hair Dilemma: Halos, Wigs & Toppers post is for you!
Read my struggle with fine thin hair and the ways in which I cope with thinning hair. For more on this subject see my Fine Hair section of the blog.
In my previous life, before I became a DIY lifestyle blogger, I was a hairstylist. But not just any kind of hairstylist, my specialty was pretty unique.
I worked in the hair replacement/hair loss business cutting and styling wigs and hairpieces for men and women with fine and thinning hair.
For some years ago now, I can't believe it has been almost 5 years, I started writing about my own hair loss journey and some of the tips and crazy techniques I use to get a fuller look to my fine thin hair.
If you are new to my blog then please go back and read the first post in the series The Fine Thin Hair Dilemma and then read the follow up from a few years later The Fine Thin Hair Dilemma: Part 2 before reading this post. That way you will know where I'm coming from and where I have been.
I had hoped through the years that it wouldn't be me sitting in the wig stylist chair, but sadly here I am baby thin hair and all. As time goes on, however, there have been some great improvements in the wig and hairpiece business.
For one is the prices! The more we demand better solutions for hair loss, the better the cost of owning a quality wig or hairpiece becomes affordable.
I have found some great ways to style my thin hair using superb quality wigs, secret halo extensions, and my newest love of wavy hair toppers!
The Fine Thin Hair Dilemma: Halos, Wigs & Toppers
Let's catch up first with my first line of defense for thin hair….
FAV HAIR PRODUCTS (hair products for fine straight hair that worked for me): UPDATED Dec 2021
These are the latest products I have been using. As you may have read in my previous posts, I am a sucker for a new product that promises any kind of body for lifeless, too soft, thin hair. I think I've tried them all.. lol!
I really do not use any of the root sprays listed below. I have been wearing toppers and all you need is Loreal Root Spray or a root covering powder and hairspray to keep the hairline in place.
In my previous recommendations for shampoo, I mentioned I used OGX products. I have since stopped using them. They are believed to cause scalp irritation and possibly hair loss. I did not have that reaction but I am not taking any chances to lose more hair. There is a class action against them if you would like to research online to make your own decision about it. For me, it was an easy one just do not take the chance. There are better shampoos out there.
Now for the fun part! Let's talk wigs!
A couple of years ago I decided to buy a couple of wigs. I found a great wig vlogger her channel is named Taz's Wig Closet on Youtube. By watching those videos, she convinced me that we can all look great in wigs.
I was literally compelled to buy them just by watching her. Her name is Taz and she looks so amazing and beautiful in every wig she tries on. Seeing her literally gives you confidence that you can feel good wearing a wig. Check out her channel in the link above and you will see what I mean.
So this brings me to ask the question. Why can't we have the hair of our dreams?
I'm tired of rubbing two hairs together to try to make it look presentable. TV stars, movie stars, Instagrammers, and social media stars wear wigs and hairpieces all the time and we never even blink an eye, if we even know it.
It's time to feel good about ourselves again. I am now at the beginning of my fifties and frankly, I am starting not to give a hoot about what people think of me anymore. I just want my hair back and since there is no magic pill or serum, I decided to try a different approach! Secret hair!
Let's talk about Wigs and Hairpieces:
What is a Wig?
Wigs are pretty self-explanatory. They are worn over your existing hair. They can be human hair or synthetic fiber with monofilament or weft type tops, sides, and backs with full or partial cap sizes.
What is a Halo Extension?
A halo extension is 5-10 wefts of hair sewn together. Usually, around 12-20 inches in length that will go from temple to temple on your hair. The top portion of your hair is left out to hang over the top of the halo.
It is secured around your head with clear monofilament string (aka. fishing line). The line lays one to two inches behind your natural hairline and down under your existing hair.
What is a Hair Topper?
These are small 5 x 5 inch (or larger) based monofilament hairpieces that can be used as a new thicker hairline, just behind the hairline or only over the part.
They can be clipped into your hair with clips, or tied and glued onto existing hair for longer wear. There are also crown toppers for the top of the head. Hair length can be anywhere from 8 inches to 22-inches long and in synthetic, heat-friendly synthetic or human hair.
In the 1990's I worked at a few high-end hairpiece companies. Yes, those "Hair Club" type places you would see on late night tv.
The hairpieces back then, or today what we call a hair topper, sold around $1500-$4000 back then. They were hand tied mono top lace front human hairpieces that were tied or glued down to your natural hair.
You would sleep and shower in them every day. That kind of wear and tear would cause fading of the hair color and the hair to fall out of the hair from the mono base.
They need to be constantly maintained and after a few months, they will need to constantly hair color to match and make it look right. It's like you go bald all over again in six months.
Nowadays, some of those high-end places are much lower in price than they should be. The "actual cost" wholesale cost of those hairpieces are (and this depends on the size and length of hair) $100-$400 for a stock piece and up to $400 for a custom piece.
Plus you have to pay as much as $60-$80 a month to have the piece maintained. So you see those places have a huge markup that is pretty hefty. You are paying for their nice office and fancy commercials.
Knowing all I know about this business, my quest was to set out to find the most natural wigs and hairpieces that I can feel comfortable in and good about wearing, without them costing a fortune. Plus, I don't want to damage the natural hair I have left.
At one point, I wore human hair extensions glued into my hair with a wax-type adhesive. When they started to grow out they became a hot mess and I ended up losing some of my existing hair in the removal process.
I don't want to go down that road again. I am also wary of using metal clips in hairpieces. They can thin your hair out or make you go bald in spots faster than you think.
For an in-depth look at hair toppers see my Hair Topper Q & A post.
---
Here's what I did next.. I went around to some hair supply stores and some upscale hairpiece shops. I looked at a ton of videos on Youtube, Amazon, and even eBay and here is what I found!
Hair Beauty Supply Stores:
I found a huge assortment of hair at the hair supply store. When I say a hair supply store, I do not mean Sally's Beauty Supply. I mean the kind of beauty supply store that sells nothing but wigs and extensions.
The store I went to was as big as a warehouse. I was like a kid in a candy store! It had great quality human and synthetic extensions, toppers, and wigs for prices around $40-$100. It was just what I was looking for!
I bought the above synthetic halo extension for $40 and a hair wrap-type ponytail for the same price. All in all, this is a great way to get quality hair at great prices.
You need to find one in your area and check it out. They are not an online store so I could not link to them.
The Hair Couture Smart Hair Halo above has an extra strip of hair connected to the halo. You wrap and layer the weft over your top hair for added fullness. More on how it works on their website.
Upscale Hairpiece/Wig Shop:
The shop I went to, all their hair topper pieces started at $500 and the wigs were $1000. They looked amazing and were custom hairpieces being sold as stock pieces.
This is a great way to start with a topper if you do not know what you want. They reminded me of the pieces being sold at Highline Wigs, Madison wigs, and others like them.
YouTube:
One of the best sources of wig ideas and tips is on YouTube! If you do not know where to begin with a wig or topper then this is the best place to start! I have a bunch of favorite Wig Vloggers I follow.
My best advice is to look over the main wig brand websites (I'll add a list of my fav's at the end of this post) and choose a style. Then go to YouTube.com and type in the style with the color of your choice and literally a ton of videos come up with the styles and shades.
I do this when I am looking for certain colors by brand. It is tough to choose what color you want from a flat swatch on your computer monitor. Seeing them on a live person gives you an idea of how it will look on you.
The Wigs I Bought:
I mentioned above that I bought two wigs. I did! But not just any wigs these are from Continental Wigs UK shop. They are Belle Madame Brand Wigs.
They are super lightweight, not filled with a ton of hair, sheer mono top, sheer lace front and just plain gorgeous! The first one above is the Belle Madame Carlotta in color Danish Blonde Root.
The long one above and my personal fav is the Belle Madame Angelina in color Danish Blonde Root. Ladies these wigs are gorgeous! Check out Taz's YouTube videos featuring them here, YouTube Carlotta and YouTube Angelina.
You may need to fast forward a little in the videos to see the wigs I am talking about. To order these wigs you have to buy them from Continental Wigs in the UK.
It took about two weeks to get them. But it was well worth the wait! You can find them occasionally in US stores online like Cysterwigs.com. To me, these are some of the most natural looking wigs for hair loss. The lace front wigs just look undetectable on the front hairline.
Amazon:
Amazon can be a great source of wigs and hairpieces. I bought a human hair halo from VeSunny. It was excellent quality and almost exactly like the Hidden Crown Brand Halo in every way.
Only the Amazon version was around $50, a fraction of the price of the other Hidden Crown halo at $200. I know this because I have a Hidden Crown Hair halo (see below).
The one from VesSunny sadly didn't match my hair. But since it is human hair, I am going to try to color it darker to use for a darker winter hair look.
Hidden Crown Hair is the first halo hair company I found. They have tons of fantastic reviews and most runways feature models wearing their hair. So, I bought one of these first to get the hang of using a halo.
Here is my Hidden Crown Halo Review: The only issue I had with it was the coloring did not match my hair exactly. It was more of a beige tone. I had to use a gold base coloring shampoo to get a better match with my own hair. Otherwise, this is an amazing halo. The human hair is top quality.
This is a grainy pic of me from my phone. I took the pic in a shaded hallway, ugh. I am wearing the Hidden Crown Halo with my hair pulled back in a clip.
Right now my hair is shoulder length and I needed to pull the halo back in a clip to make it blend until my own hair grows out a little to look flawless.
When I first checked into halos, I could not find a pic of the underside of the halo unit. I had no idea what I was buying really.
If I am going to fork out $200 I want to see what I am getting. Now that I have one I am guessing they are made so simply that if they posted the underside showing the wefts you wouldn't need to buy the more expensive ones.
They look pretty easy to make yourself. There are a few DIY videos on Youtube on just how to do it. I posted the underside view of mine so you can see exactly what they are and how they look. I added some wig clips to secure my halo. I take no chances with it falling out, lol.
I bought my daughter a long 20-inch halo extension from this buyer on Amazon. I thought it would be a piece of junk but I was pleasantly surprised to see it was a great match and excellent synthetic fiber!
Not shiny or brassy like cheap synthetic can be. It was a whopping $9.98! Good buy for someone with long hair that just wants to add length, highlights or just try one out.
Another fav Amazon find was this fun baseball hat hair extension for $20! The hair is surprisingly great quality and very thick. This is great for when you want to throw and hat on and go to the store. This would be a great solution for chemo patients! There is a short version too.
You can make your own wig here in my DIY How to Make a Wig Hat tutorial.
eBay:
eBay actually turned out to be better than I expected for wigs! After trying the halo extension I just wasn't satisfied with the way the top of my head looked.
I will still wear it but I really wanted to get a topper to try and add some height and thickness to my part area. I was looking for the most natural looking part. I knew wanted a monofilament base topper with a lace front.
The topper I was looking for was one by Jon Renau called Easihair Top Wave 12 inch. This particular company has been out of stock for a few weeks on the color I was wanting. It is a pretty popular piece.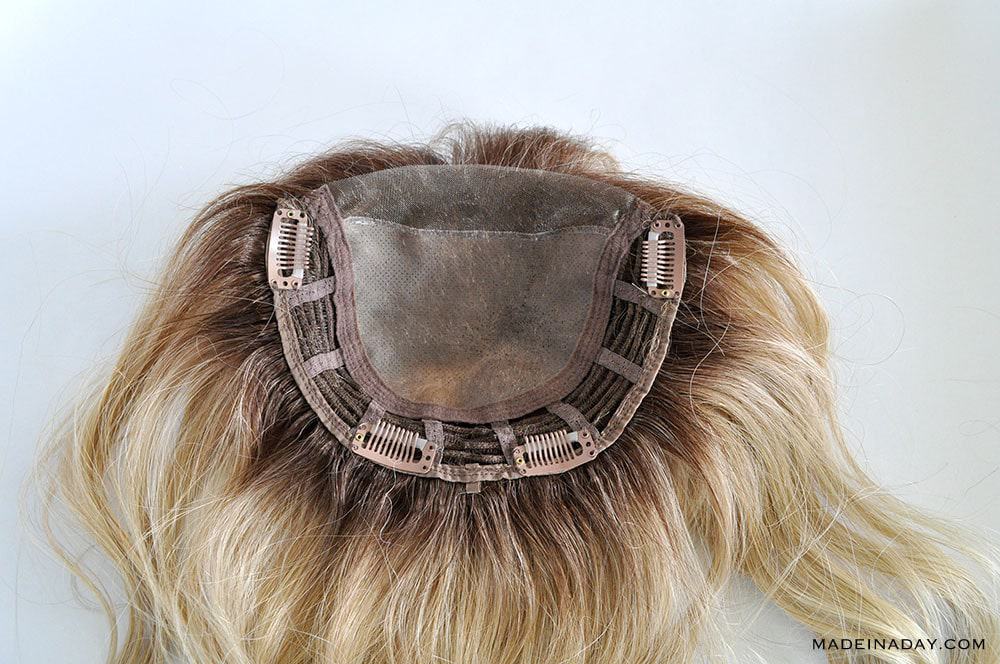 I decided to look on eBay for the color and I found it! Or at least I thought I did. What I found was a great seller that owns a wonderful wig shop called Pinkee Promise in Tennessee.
Cheryl was so friendly, helpful, and knowledgeable about what I was looking for. The Jon Renau topper was back-ordered even for her. She directed me to another topper that is a dead ringer for the Jon Renau topper.
It is the Belle Tress Lace Front Mono Top Wave 14 inch in Honey Chai Latte (see pics above). Even the color is almost identical to the other one. To me, this is the best topper for thin hair.
The hair is a fine texture and the density is low. Great for a starter piece. This hair is Deat Defiant or heat friendly. That means it can be style using a curling iron or flat iron. See my post on how to style heat defiant hair fiber for more info.
This is me with the Belle Tress Straight out of the box. My hair is actually in a ponytail. I just stuck it on to see how it matched. Pay no mind to the goofy look on my face, lack of sleep and makeup, lol. I just love it!
I do wish it was a little bit thicker. There is not a ton of hair in the base and I knew this when I ordered it. It really looks so natural not being super full. I just hope it will last.
The Tope Wave has no perma-tease (the crinkled hairs on a wig that add height and fullness, like teasing) at the base or roots so it lays down smooth like a natural part would.
It looks so real! I can't believe it. It blends perfectly to my own darker roots. I think I am addicted! I will be ordering more! It is so far the best hair topper for thinning crown and top.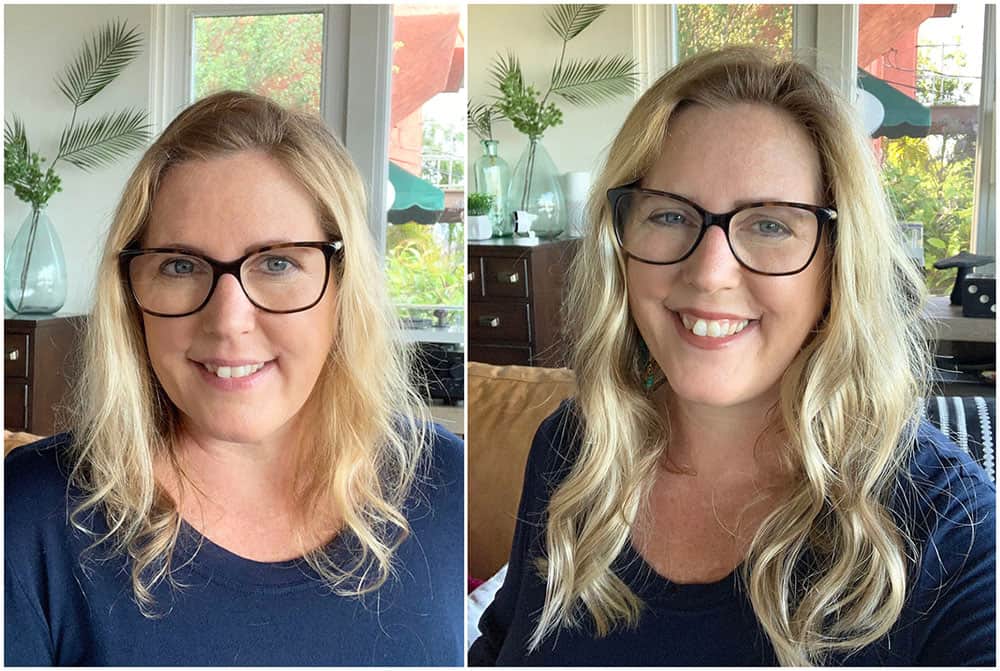 Other Online Shops: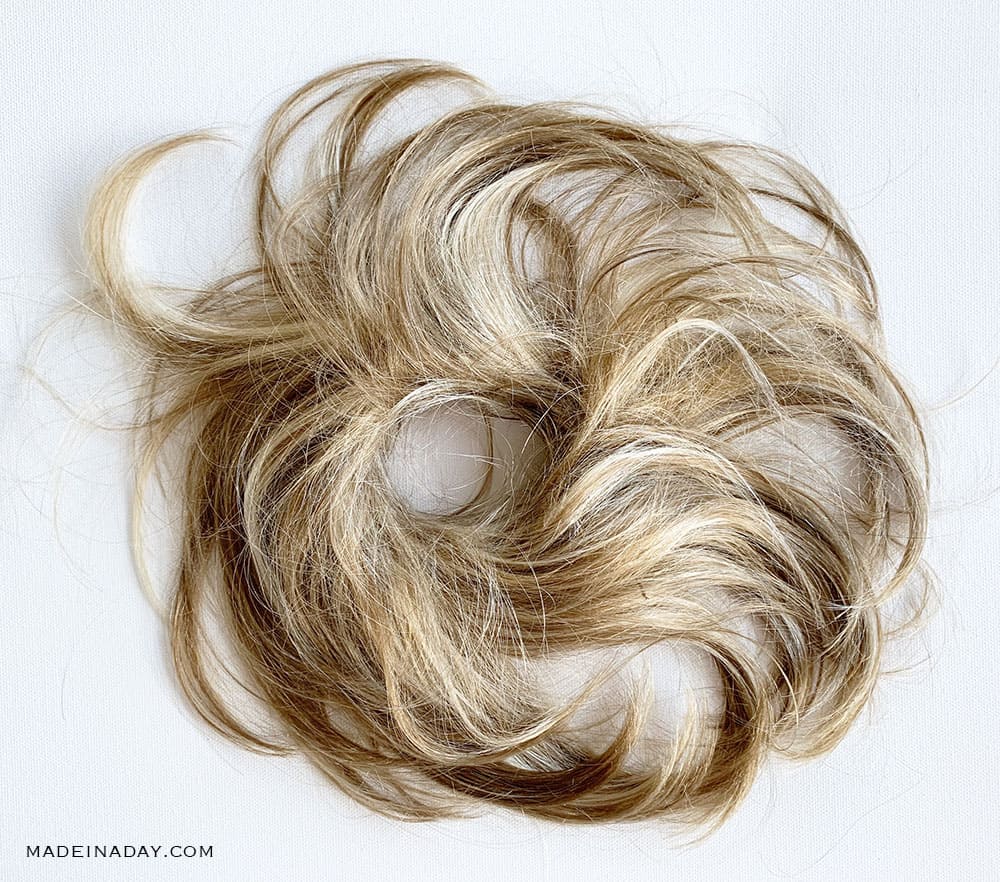 Another one of my fav finds is this thick density human hair scrunchie by Hairart to make a large bun. It is so soft and the color is perfect. It blends seamlessly with my hair.
The wrap shown is the HAIRART HAIR WRAP 6 inch – #24:14:12 PALE GOLDEN BLONDE: LIGHT ASH BROWN: LIGHT GOLDEN BROWN. It has a mix of three colors. Use the code WIGREVIVAL to get 10% off.
Check out my new post! Hair Toppers Q & A, Newbie Guide! Everything you need to know about hair toppers
Products I have been using on my new wigs and hairpieces are as follows:
Synthetic Hair:
Human Hair:
Some of my Fav Wig Brand Companies:
Online Wig Stores:
Some of my Fav Wig Vloggers on Youtube:
My Fav Amazon Hair Finds:
So this is what I have been up to lately with my hair. I know I have given you a lot of options for where to start with wigs and hairpieces. If any of you have any favorite wig tips, stores or great toppers to share please leave a comment.
I'd love to hear your story and get some info on where to get some great hair for reasonable prices. Plus, I may get brave enough to do a video on what I learned and the fun topper I got. Who knows maybe I'll just join my favorite wig vloggers!
Do you have a wig you didn't wear or just didn't like the color? Join my FB group and buy, sell or trade wigs with a wig sister! See ya there!
Love it? Pin it!